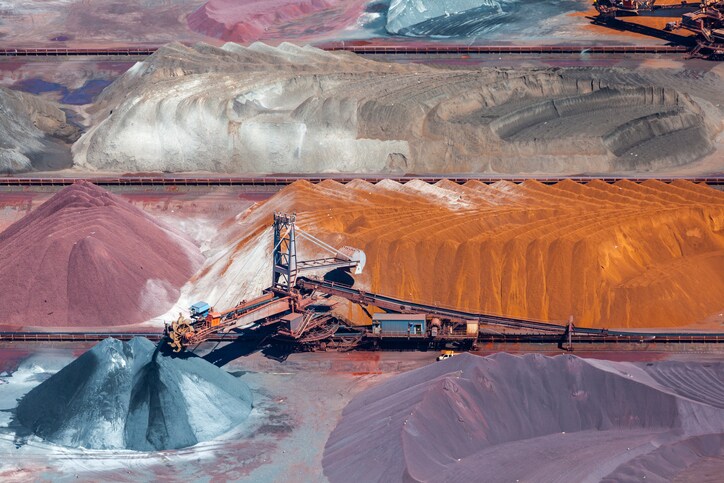 The iron and steel manufacturing process begins with mining raw materials, which must then be carefully processed to ensure quality finished products that meet specifications. There are more than 3,500 different grades of steel with many different physical, chemical, and environmental properties. Adding metals such as nickel, chromium, and tungsten produce a wide range of alloy steels such as stainless steel.
A World Steel Association Fact Sheet offers the following data on steel raw materials:
Steel is an alloy consisting mostly of iron and less than 2% carbon. Iron ore is, therefore, essential for the production of steel, which in turn is essential in maintaining a strong industrial base. 98% of mined iron ore is used to make steel.
Iron ore is mined in about 50 countries. The majority of iron ore is mined in Brazil, Australia, China, India, the US and Russia. Australia and Brazil together dominate the world's iron ore exports, each having about one-third of total exports
As iron occurs only as iron oxides in the earth's crust, the ores must be converted, or 'reduced', using carbon. The primary source of this carbon is coking coal. Coal is a key raw material in steel production. Coal is primarily used as a solid fuel to produce electricity and heat through combustion. Coke, made by carburising coal (i.e. heating in the absence of oxygen at high temperatures), is the primary reducing agent of iron ore. Coke reduces iron ore to molten iron saturated with carbon, called hot metal.
Sinter is the primary feed material for making iron in a blast furnace. The production of high-quality sinter is crucial for assuring consistent, stable furnace productivity with a low consumption of reductants. Sinter quality begins with the proper selection and mixing of the raw materials. Inhomogeneous raw mix can affect permeability and cause an increase in fuel consumption.
Precise feeding of process materials is critical to maintaining product quality, but measuring and ensuring steel raw material quality control can be challenging. Equipment used to ensure raw material quality control includes:
Visit the new Steel Manufacturing web site, including an overview of Raw Materials Quality Control for Steel Manufacturing.