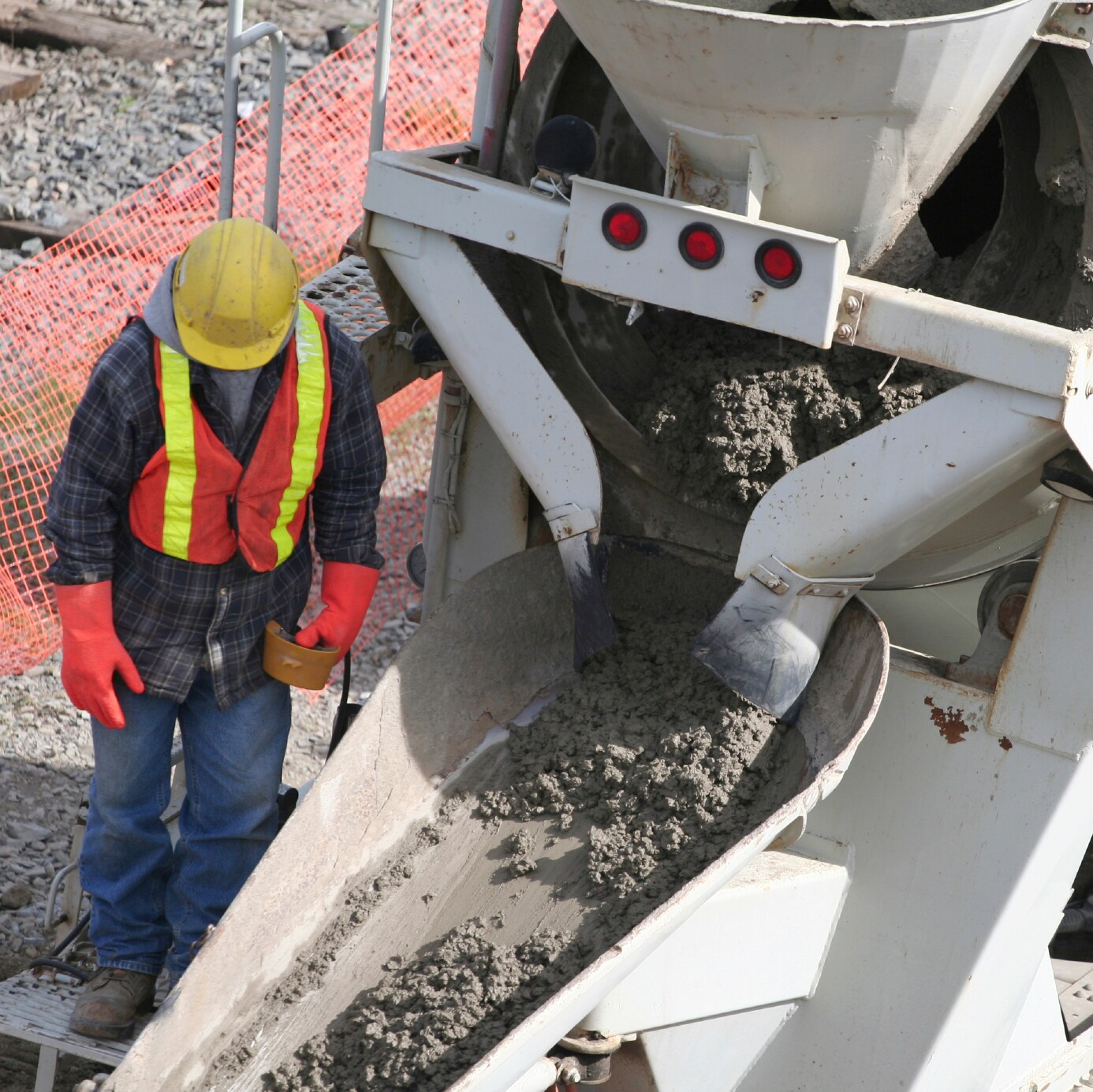 Concrete is the most widely used man-made material (measured by tonnage made) in the world. Concrete is a mixture of coarse aggregates (different types of rocks), fine aggregates (different grades of sand), portland cement, and water. Aggregates produced from natural sources are extracted from quarries and gravel pits and in some countries from sea-dredged materials (marine aggregates).
One of the most important characteristics of concrete is the so-called workability. The workability is the ability of a fresh (plastic) concrete mix to fill a given form or mold properly with the desired work (vibration) and without reducing the concrete's quality. Workability depends on factors such as water content, aggregate (shape and size distribution), cementitious content and age (level of hydration). Workability can be modified by adding chemical additives such as super plasticizer or by raising water content; however, too much water increases cracks and significantly reduces the strength of the concrete, which is why engineers use the concrete slump test.
Slump is a measurement of concrete's workability or fluidity. The slump test is a simplistic measure of the consistency of a fresh batch of concrete to determine workability, or in other words, that the right amount of water has been added to the mix. The slump test follows ASTM C 143 or EN 12350-2 test standards by which slump is measured by filling an Abrams cone with a sample from a fresh batch of concrete. The cone is placed with the wide end down onto a level, non-absorptive surface. It is then filled in three layers of equal volume, with each layer being tamped with a steel rod to consolidate the layer. When the cone is carefully lifted off, the enclosed material slumps a certain amount, owing to gravity.
Interpretation of the Concrete Slump Test
According to the Concrete Society, concrete slump test results can be interpreted as follows:
True slump: The concrete basically maintains the shape of the cone.  This is the only acceptable outcome.
Shear slump: The top portion of the concrete shears off and slips sideways. Concrete mix that results in a shear slump should be retested.
Collapse slump: The concrete collapses completely, which generally means that the mix is too wet or that it is a high workability mix. This mix should be retested.
Adequate concrete workability during and after being transported, poured, pumped, molded, compacted, and other processes depends on its flow behavior in the fresh state. Rheology, a measure of flow behavior, is an important way of determining concrete performance because it allows an in-depth characterization of the elastic and viscous properties of freshly prepared building materials. Rheometers are suited for complex material property investigations in the cement industry for applications such as relative viscosity determination as well as yield stress measurements and time to harden and dry. They are able to analyze sample types including mineral slurries, ceramic suspensions, construction materials, and mortars and grouts to determine qualities such as flow behavior, processability and processing time as well as pumpability.
Read Measuring Yield Stress to Correlate Slump of Concrete and Cement Paste to see experimental results and discussion of this study.
Update: Visit the Cement Production center on our website, with free resources to help you optimize your cement making process.