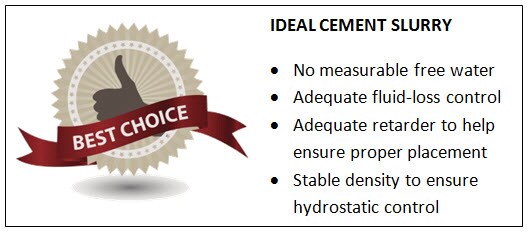 Oil well construction is a complex, multi-step process. Once the well is drilled, steel pipes, called casing, are run down the length of the hole and cemented into place.
Cementing the casing is a critical part of well construction; cement seals the space between the well casing and the drill hole to hold the casing in place, stabilizes the well, and prevents oil and gas from leaking into the groundwater. View the infographic, Cementing: A Seal for Safety from the American Petroleum Institute (API) for a snapshot of this process.
Different cements are used for wells than for road or building construction because oil-well cement must be able to withstand a greater range of pressures and temperatures. There are eight different API classes of cement used in oil well construction designed to meet varying requirements for depth and temperature. To make well cement, a dry API grade consisting of primarily Portland cement is mixed with water to create wet cement, called slurry, which is pumped into the well. Slurry composition is critical to the cementing operation.
Cement slurry design is a careful process of mixing multiple additives to modify the cement properties and to mitigate or enhance the effects of other additives. Slurry performance properties include thickening time, compressive strength, density, viscosity, rheology, free fluid, and stability and are measured by observing the physical qualities of the slurry after the additives are incorporated. The Society of Petroleum Engineers PetroWiki site offers the following guidelines for slurry design.
In formulating a cement slurry, the designer must consider not only the temperature but also the other downhole conditions, such as permeability and water-sensitive formations. A slurry should be designed for its specific application, with good properties to allow placement in a normal period. The ideal cement slurry should:
Have no measurable free water
Provide adequate fluid-loss control
Contain adequate retarder to help ensure proper placement
Maintain a stable density to ensure hydrostatic control
Slurry design is affected by the following criteria:
Well depth
Quality of mix water
Bottomhole circulating temperature (BHCT)
Fluid-loss control
Bottomhole static temperature (BHST)
Flow regime
Drilling fluid's hydrostatic pressure
Settling and free water
Type of drilling fluid
Quality of cement
Slurry density
Dry or liquid additives
Lost circulation
Strength development
Gas-migration potential
Quality of the cement testing
Pumping time
Laboratory and equipment
Cement slurry must be monitored constantly for variations in slurry density and proppant concentration to allow for immediate corrective action.  Density gauges have been designed to provide, accurate, real-time measurement of fluid density including PPG, PPA and SGU. These non-contacting density gauges are engineered to endure high shock and vibration as well as withstand the extreme moisture and high humidity of oilfield environments. Learn about other current and emerging technologies for cement analysis.
Update: Visit the Cement Production center on our website, with free resources to help you optimize your cement making process.