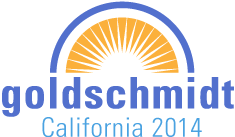 The Californian Goldschmidt, the prime forum for all recent developments in geochemistry and related fields, is taking place this week in Sacramento. It's a great place to hold the event. The venue is conveniently close to many of California's renowned geologic features including Yosemite Valley and the Sierra Nevada batholith, several ophiolite complexes, and the fossil subduction zone of the Franciscan Complex.
Many attendees will come from the mining industry to attend the many sessions and workshops. Do a search on the show website for mining, and you will find many sessions addressing mining-related issues — including the Plenary: The Environmental Legacy of California's Gold Rush/History Mining.
Our chief geologist, Ali Somarin, will be presenting his technical poster — Importance of sample preparation in handheld XRF technique: examples from Madero Pb-Zn (Mexico) and Carmax Cu-Mo (Canada) deposits — during the show. Ali's study compares lab results with Handheld X-ray Fluorescence (HHXRF) assays of prepared and unprepared samples from two mined deposits.
The investigations were carried out on drill core samples from two deposits: Madero Pb-Zn (Mexico) and Carmax Cu-Mo (Canada). The pulverized samples were analyzed by laboratory methods including atomic absorption (AAS) and inductively coupled plasma emission spectroscopy (ICP-ES) as well as portable XRF instruments for the mining industry. Also core samples were directly analyzed by HHXRF.
This investigation shows high correlation between data from portable XRF and lab methods for all metals of interest in the Madero deposit (Zn-Pb-Cu-Ag) as well as the Carmax mineralization (Cu-Mo). In the prepared samples, the correlation is as high as 98% for Pb, 97% for Zn, 96% for Cu, 80% for Ag in the Madero deposit and %86 for Cu, %95 for Mo and %82 for Zn in the Carmax deposit. Sample preparation has a significant role on the quality of data. For example, the correlation between lab assays of core samples and their direct shot data (i.e. unprepared samples) obtained from HHXRF is only 72% for Zn. This correlation jumps to 96% on prepared samples.
Additionally, the poster shows the geological features of the Madero and Carmax deposits, the two methods used for analyses, the correlation data and results, representative strip logs for drill holes, correlation graphs, conclusions and recommendations.
If you are at Goldschmidt, there are afternoon poster sessions on Monday, Tuesday and Thursday of the conference from 17:00-19:00. On Wednesday posters will run from 14:00 – 17:00. Not going to the show? Click here to take a look at the technical poster he is presenting. You can also follow the show's activities on their twitter feed @goldschmidt2014 or #goldschmidt2014.