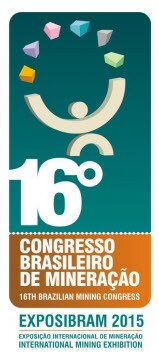 When you think of mining trade shows in Latin America, you think of EXPOSIBRAM. With over 50,000 visitors and 500 exhibitors, the International Mining Exhibition and the Brazilian Mining Congress combined bring together hundreds of entrepreneurs, government and private organizations in one place. It only happens every two years, and this year's event, being held September 14-17, is located in Belo Horizonte, Minas Gerais, Brazil.
Show organizers claim it is the largest mining fair in Latin America and attracts the major mining companies with global operations and large suppliers of goods and services. You can find everything related to mining, including the latest in technology, equipment, software and other related products.
Brazil is certainly an appropriate place to hold a mining show. First, Minas Gerais means "general mines" and the state has a history of gold, diamond, and semiprecious-stone trading going back to the 17th century. Second, according to U.S. Export 2012 data, Brazil is the world's fifth largest mineral producer and has one of the world's largest mining equipment markets. Brazil's largest installed mining operations are for iron ore, with 2010 output at 372 million metric tons/year (Mt/y), representing nearly 17% of the world's total. Brazil also produces bauxite, gold, kaolin, manganese, niobium, potassium chloride, phosphate concentrate, zinc, copper, lead, tin, nickel, uranium, and other materials. The total value of Brazilian mineral output in 2010 was US$50 billion. 48% of the total was concentrated in Minas Gerais.
The Brazilian Mining Association reported in 2013 that a total of 175 thousand workers are employed by the 8,870 companies in the Brazilian mining sector. It went on to report that "Over the past decade, Brazil's mining industry posted vigorous growth thanks to factors such as the profound socioeconomic and infrastructure changes that the country has been experiencing. This has been the case despite the fact that expectations on the mining business have been reduced as a result of the international crisis. This growth is driven by urbanization in emerging countries endowed with significant territorial areas, high population density and large GDP (Gross Domestic Product), such as the BRICs (Brazil, Russia, India, and China), which coincidentally are major players in the global mining arena." It will be interesting to learn if this is still the case since the Information and Analyses on the Brazilian Mineral Economy • 7th Edition report was released. I'm sure there will be plenty of talk about Brazil's mining economy at EXPOSIBRAM.
We'll be at the show in booth #P19 demonstrating the latest technology related to bulk weighing and monitoring, minerals analysis, environmental process monitoring, and informatics. Stop by and talk with our experts regarding conveyor scales, weightbelt feeders, conveyor safety switches, portable XRF analyzers, lab information management systems, density meters, and a host of other equipment and instruments vital to the mining industry. Our highly integrated range of instruments, equipment and consumables, anchored by industry-leading laboratory information management system (LIMS), is the only offering that addresses all segments of the mining process, from early stage exploration through processing.
If you want to do some exploring outside the conference building, Minas Gerais is the second most populous state and is located in the west of Brazil. Fodor's Travel offers information on many attractions, and named these places as the top three: Conjunto Arquitetonico da Pampulha (a modern 1940s complex that encompasses a museum and church with landscape gardens), the Palace of the Arts (the most important cultural center in Belo Horizonte), and the ornate Church of Our Lady of the Immaculate Conception (with its outstanding example of Portuguese baroque architecture with Asian influences that houses a luxurious gold altar and the lavishly decorated ceiling).
Well, I can't offer you any gold, diamonds, or precious stones while at the show. Nor can I offer you any baths in the mineral springs that populate the area. But if you stop by our booth, I can offer you a broad portfolio of products and deep knowledge and expertise that can help you make informed decisions about your process, from exploration through processing. Just let us know how we can help.
Show Details:
September 14 – 17, 2015
EXPOSIBRAM 2015
Booth #P19
Venue: Centro de Feiras e Convenções de Minas Gerais – EXPOMINAS
Av.Amazonas, 6030 – Bairro da Gameleira
Belo Horizonte, Minas Gerais, Brazil
Official Languages: Portuguese and English: simultaneous translation available in all sessions of the 16th Brazilian Mining Congress, except for the technical lectures.