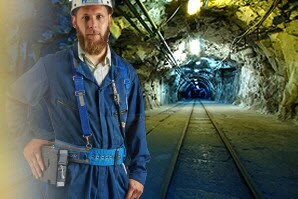 If you've read our Working in the Coal Mine series, you're familiar with the very serious issue of dust inhalation, a huge concern in coal, metal, nonmetal, stone, and sand and gravel mining operations.
The U.S. Mine Safety and Health Administration (MSHA) considers respirable coal dust to be one of the most serious occupational hazards in the mining industry and for this reason issued a new rule, Lowering Miners' Exposure to Respirable Coal Mine Dust, Including Continuous Personal Dust Monitors. Released into the Federal Register on May 1, 2014, the new dust rule will require the use of a continuous personal dust monitor (CPDM) in underground coal mines as of February 1, 2016. View the dust rule, which is summarized as follows:
"The Mine Safety and Health Administration (MSHA) is revising the Agency's existing standards on miners' occupational exposure to respirable coal mine dust in order to: Lower the existing exposure limits; provide for full-shift sampling; redefine the term "normal production shift;" and add reexamination and decertification requirements for persons certified to sample for dust, and maintain and calibrate sampling devices. In addition, the rule provides for single shift compliance sampling by MSHA inspectors, establishes sampling requirements for mine operators' use of the Continuous Personal Dust Monitor (CPDM), requires operator corrective action on a single, full-shift operator sample, changes the averaging method to determine compliance on operator samples, and expands requirements for medical surveillance of coal miners.
"Chronic exposure to respirable coal mine dust causes lung diseases that can lead to permanent disability and death. The final rule will greatly improve health protections for coal miners by reducing their occupational exposure to respirable coal mine dust and by lowering the risk that they will suffer material impairment of health or functional capacity over their working lives."
The rule is meant to help decrease and eventually end black lung disease. Stage one of the rule went into effect August 1, 2014. In December 2014, a dust monitor was approved by The National Institute for Occupational Safety and Health (NIOSH) and is currently the only dust monitor that satisfies the 30 CFR Part 74 CPDM instrument requirements for compliance with the MSHA dust rule. The battery operated device works by drawing a continuous sample of air from the breathing zone. It then removes any particles that are larger than respirable in size and measures the mass of the dust, which is collected on an exchangeable filter. The dust exposure results are automatically computed, eliminating the need for filter transport and handling steps connected with the manual gravimetric method. This automatic method leads to a significantly lower per-sample cost then with manual sampling and has the added benefit of continuous information availability.
Mining is a highly regulated industry requiring numerous tools and technologies to achieve compliance, as well as to keep operations running efficiently and profitably. Check out these resources to learn about the latest mining industry solutions.
For more information about our being a partner in the mine against black lung, go to:  www.thermoscientific.com/endblacklung (and order a free hardhat sticker!).