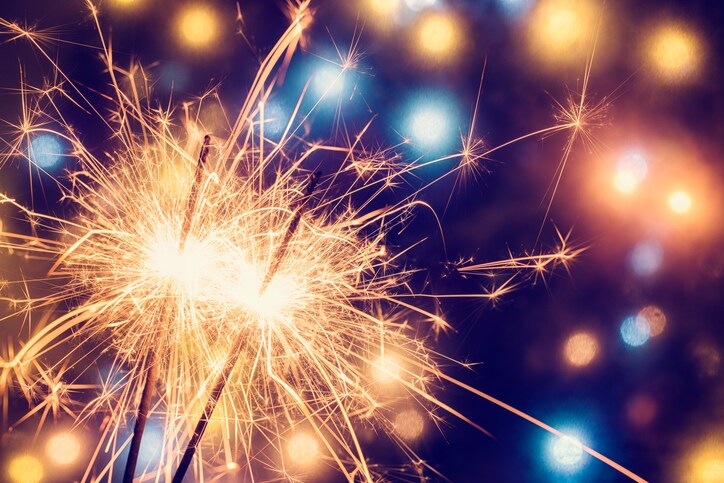 Many people spend Independence Day watching fireworks and lighting up some sparklers. However, most people do not know that there are actually many metals in those fireworks and sparklers – metals that need to be mined before they become explosions of color.
In a previous article, we discussed the metals and elements that made fireworks spectacular. Mineral elements, like gold, titanium, zirconium, magnesium, strontium, copper, and barium produce the beautiful colors we see. Take a look at this fireworks infographic to see the Atomic numbers that are used in fireworks, and which metals are used for creating smoke, loud bangs, and glitter effects.
Even those small sparklers incorporate mined elements. Aluminum (from bauxite), titanium, and magnesium produce those brilliant white sparks from their metal sticks. (Be careful, though. Those burning metals can be quite dangerous. Take a look at our sister Analyzing Metals blog to learn more about sparkler manufacturing and safety.)
Mining companies can use portable XRF analyzers when looking for base metals or precious metals, including those used in sparklers and fireworks. The data collected during the grade control processes helps mining geologists conduct quantitative geochemical analysis of metal concentrations. This data helps to create composite maps of elemental distributions within a sample and determine where the best targets are located. Geochemical maps can be used to see an anomaly or trend, make the most efficient and economical drilling and excavation decisions, and ensure that your mining plan will yield a sufficient return on investment.
So when you are looking into the sky at those spectacular July 4th firework displays, take a moment to look at the ground and remember that these beautiful, brilliant, explosions of colors originated below your feet.
Happy 4th of July. Celebrate and be safe.