Early in the year, Deloitte published a 44-page document, tracking the mining  trends of 2013. Here's their summary below.  You can also download the document from their site as well.  How did they do?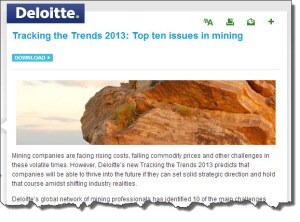 Mining companies are facing rising costs, falling commodity prices and other challenges in these volatile times. However, Deloitte's new Tracking the Trends 2013 predicts that companies will be able to thrive into the future if they can set solid strategic direction and hold that course amidst shifting industry realities. Deloitte's global network of mining professionals has identified 10 of the main challenges likely to confront the sector during 2013 in our fifth annual report Tracking the Trends report.  The report considers these issues and offers solutions that mining companies could adopt in response. The 10 trends identified and described in the report are:
Counting the costs – Paying the price of bullish behaviour
Managing demand uncertainty – Conflicting market indicators magnify volatility
Capital project deceleration – Quality trumps quantity in the project pipeline
Preparing for the M&A storm – Market indicators point to rising deal volumes
Governments getting greedier – The cash cow is bleeding amid heightened resource nationalism
Combatting corruption – Miners are being held to higher standards
Climbing the social ladder – A new level of responsible behaviour
Plugging the talent gap – Long-term skills shortages still loom
Playing it safe – Looking beyond historical data to improve safety outcome
At the IT edge – Getting the most out of emerging—and existing—mining technologies
We are almost through the year.  Was it true?  Were these your top ten issues this year?  What will be the top 10 issues you face in 2014?  Comment below and let us know.