Editor's Note: This is the second of three articles about our video series for Mineral Beneficiation Plants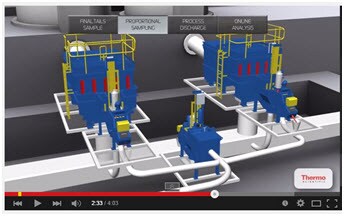 Ever wonder how tailings are sampled for analysis and metallurgical accounting in a mineral beneficiation plant?
Mineral beneficiation is the process of extraction of valuable minerals from their ores.
In this animated video, you'll see how accurate tailings samples are acquired through primary and secondary samplers. The cleaner scavenger tails and rougher tails process streams are sampled proportionally so that the discharge of these samplers can be combined into a proportional and accurate representation of the total final tailings process flow.
This approach allows the final tails on-line analysis and metallurgical sample to be acquired in a much smaller sampler, lowering total capital investment in sampling for this otherwise very large process flow.
Alternatively a single dedicated sampler analyzer station for the full tailings process flow can be used. Dedicated tougher tails analyzers provide continuous measurement of the all important tailings grade.
Reliable and accurate high frequency analysis on these critical process streams provides a valuable tool for plant operations to optimize recovery.
Losses due to process upsets, mechanical failures and feed characteristic changes are rapidly detected by the analyzers and available for display in the control room so that operations can take corrective action in a more timely and efficient manner.
Optimization of reagents and rougher pull rates is further enhanced as the cause and effect of rougher cell control actions and reagent changes are immediately available to the plant operators, metallurgists and control engineers.
High availability is a known trait of dedicated analyzer stations as they deliver reliable and accurate analysis 24 hours a day, seven days a week.
Such detailed process information is useful to managers who require visibility of the plant metallurgical performance for the day and night shift crews. When using the analyzer process trends as a management tool, the effectiveness of consistent operating practices and policies to minimize variability in plant operations can be confirmed.
Watch the 4-minute Integrated Tailings Solutions in Mineral Beneficiation Plants Video.
→Video Series: