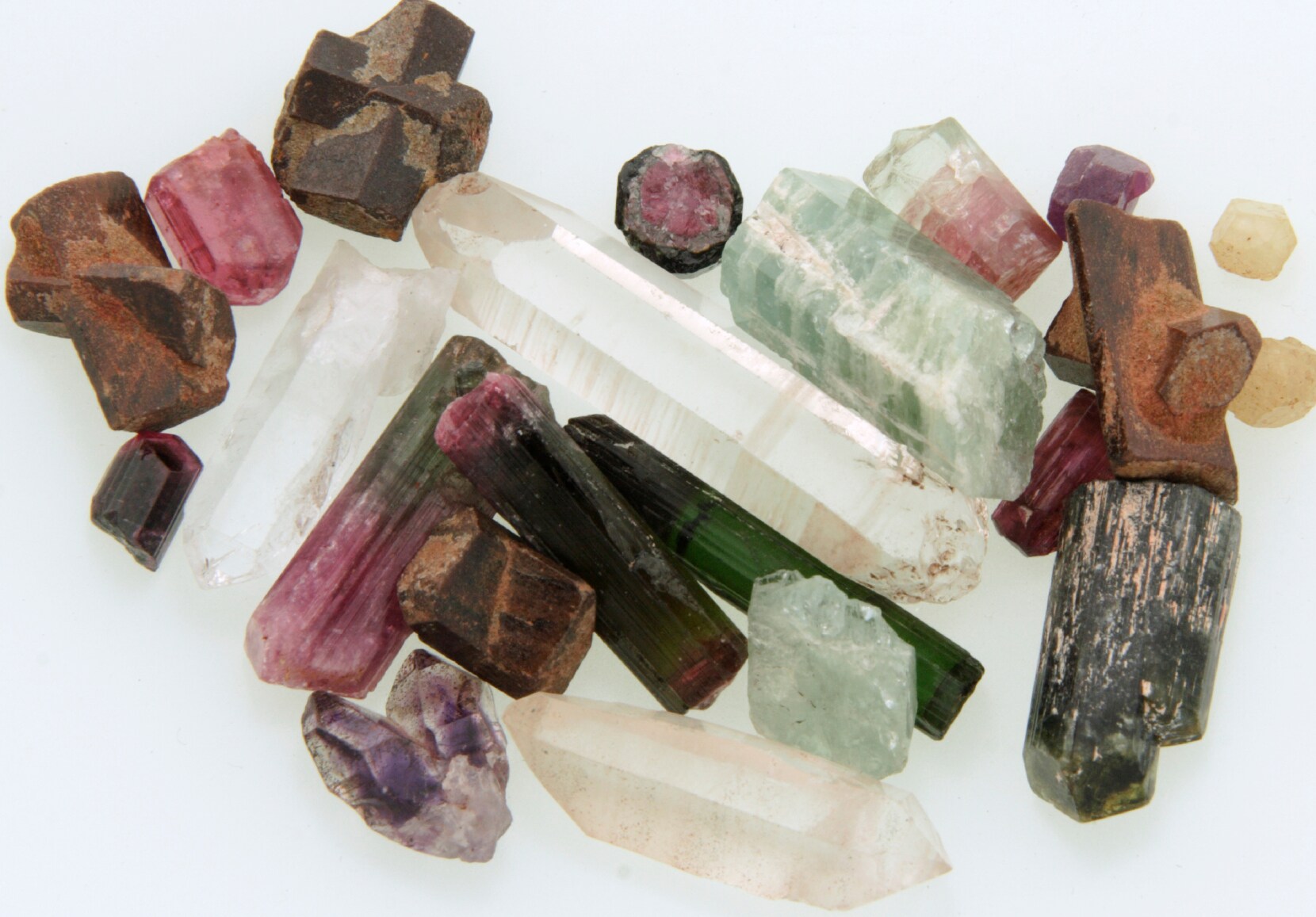 How large is a lifetime supply of minerals for the average person? The answer to this FAQ is on the U.S. Geological Survey's website; at today's level of consumption the average newborn infant will need a lifetime supply of 800 pounds of lead, 750 pounds of zinc, 1,500 pounds of copper, 3,593 pounds of aluminum, 32,700 pounds of iron, 26,550 pounds of clays, 28,213 pounds of salt, and 1,238,101 pounds of stone, sand, gravel, and cement. This works out to more than 48,000 pounds of minerals each year for each person in the United States.
Here's a look at how we're using all of these minerals.
Lead (Pb) We think of lead as a toxic substance, but it's actually in demand for quite a few applications. According to the U.S. Geological Survey, lead-acid storage batteries represent 88% of apparent U.S. lead consumption. Lead is also used in non-SLI battery applications including motive sources of power for industrial forklifts, airport ground equipment, mining equipment, and a variety of nonroad utility vehicles, as well as stationary sources of power in uninterruptible electric power systems.
Zinc (Zn) You can find forms of zinc in many different products, including creams and lotions, rubber tires, paint, roofing materials, automobiles, ships, aircraft, and building structures. If you're on the beach, in the air, on the road, or even staying at home, you are probably surrounded by zinc. Download this infographic to see some more facts about Zinc.
Copper (Cu) Copper was very important in ancient times because it was easily formed into tools. Even after iron emerged as a major industrial metal, copper remained a metal of choice thanks to its anti-corrosive quality, electrical and thermal conductivity, malleability, and energy efficiency. View this infographic to see more facts about Copper, or visit Analyzing Metals to read the Copper Compendium Series.
Aluminum (Al) Favored for its light weight, high strength, corrosion resistance, good formability, electric and thermal conductivity, reflectivity, and non-toxicity, there is a major demand for aluminum across the world in the construction, aerospace, automotive, and packaging industries. According to the U.S. Environmental Protection Agency, "In 2011, the United States generated about 1.9 million tons of aluminum as containers and packaging. About 1.6 million tons of aluminum were used to make durable and nondurable goods, such as appliances and automobile parts." Download this infographic to see more facts about aluminum.
Iron (Fe) Iron is the primary ingredient in steel. Almost all iron ore is used in steelmaking. Steel is pervasive in almost every aspect of our lives, found in nearly every building, bridge, vehicle, appliance, and machine. Read OES Increases Efficiency in Clean Steel Production to learn how steel is made, or download this infographic on the iron and steel manufacturing process.
Clay, sand, and gravel are industrial minerals called aggregates that are commonly used, either in processed or natural state, to make building materials, paint, ceramics, glass, plastics, paper, electronics, detergents, medications and medical devices, and many more industrial and domestic products. Read Ubiquitous Industrial Minerals: Nature's Most Popular Raw Materials.
Cement There are more than twenty types of cement used to make various specialty concretes. Concrete forms the basis of all types of infrastructure including bridges, highways, and rail systems, as well as residential and commercial buildings. Read The Cement Manufacturing Process for more information.
Salt Prior to the advent of modern mining, salt was so difficult to produce that salt trade formed the basis of economies. Ancient Roman soldiers were actually paid in salt, and wars have broken out over salt taxes. Today salt resources are virtually unlimited. Not only does salt make food delicious, it has many industrial uses, it's an essential nutrient to both humans and animals, and rock salt is a necessity in areas with harsh winters. Read How Mining Helps to Fill the Salt Shaker.