The Periodic Table was created in 1869 by Russian chemist Dmitry I. Mendeleev. According to a BBC report, Mendeleev realized that the "physical and chemical properties of elements were related to their atomic mass in a 'periodic' way, and arranged them so that groups of elements with similar properties fell into vertical columns in his table."
This periodic table is a handy tool in the mining and minerals industry. At a quick glance you can see the name of the element, where it falls in the atomic mass group, its atomic number, and it's abbreviation.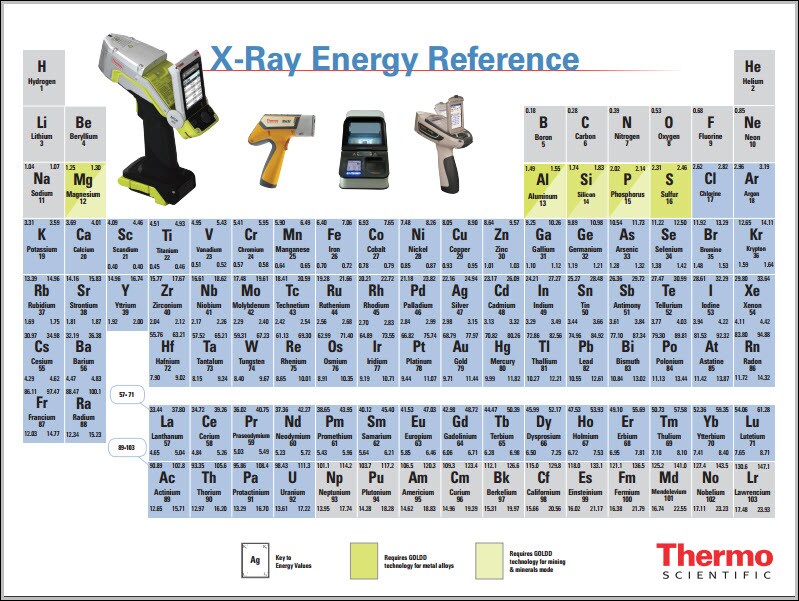 If you need a copy, you can download a free one here. This particular sheet also contains the x-ray energy reference numbers for each element.
XRF Analyzers Report the Elements
Portable x-ray fluorescence (XRF) analyzers are used throughout all stages of the mining and exploration process, including outcrop and soil analysis, advanced exploration and drilling, core sample analysis, mine mapping, ore trading, grade control, and cuttings analysis for mud logging and reservoir characterization requiring light element analysis, in oil and gas exploration and production (E&P).
These instruments utilize x-ray fluorescent technology, which is a non-destructive analytical technique used to determine the elemental composition of materials.  For example, Rare Earth Elements (REEs) are natural elements with an atomic number from 57 to 71. These elements are classied into two groups: light REEs (LREEs), representing lanthanum (La) to samarium (Sm), and heavy REE (HREE), representing europium (Eu) to lutetium (Lu). Scandium (Sc) and yttrium (Y) have similar chemical properties and tend to occur in the same ore deposits as REEs, particularly HREEs. Portable XRF can be a very useful tool to qualitatively and quantitatively evaluate REE projects in real time in the field.
As another example, Field-portable x-ray fluorescence (FPXRF) is emerging as an important enabling tool in Oil & Gas Exploration & Production operations because it provides valuable information about the mineral composition of the rock and whether or not it has properties favorable to oil and gas production. Although FPXRF cannot analyze hydrocarbons, they can be used to characterize reservoir properties that influence porosity (cements), permeability (clays, cement type), fracture population (Si content), and productivity (e.g. Si, Mg content).
These XRF analyzers are able to detect light elements (Mg, Al, Si, P, S) to more accurately locate oil-bearing strata, improve mud-logging, and support geo-steering. By providing fast and reliable geochemical data at the drill, in the field, and in the core lab, FPXRF analyzers allow the geologist to predict where the oil and gas is in the rock formation, what factors affect the porosity and predict the volume of oil and gas present, how the permeability of the rock can affect the flow of oil and gas from the rock to the well bore, and how a rock formation can be engineered to produce more by fracturing and well treatments.
It may sound complicated, but you don't need to be a scientist to use a handheld XRF analyzer. Today's portable and handheld XRF analyzers are specifically designed to be operated and interpreted by the non-scientist. Minimal training is required to operate a portable XRF analyzer. The instruments are usually pre-calibrated and display the exact percentages of elements present in a sample. Many analyzers are outfitted with GPS/GIS capability for instant geochemical mapping in the field.  If you want to understand more about XRF analysis, you should download this free eBook – XRF in the Field: XRF Technology for the Non-Scientist,which explains X-ray fluorescence (XRF) technique and technology in an easy-to-understand manner.