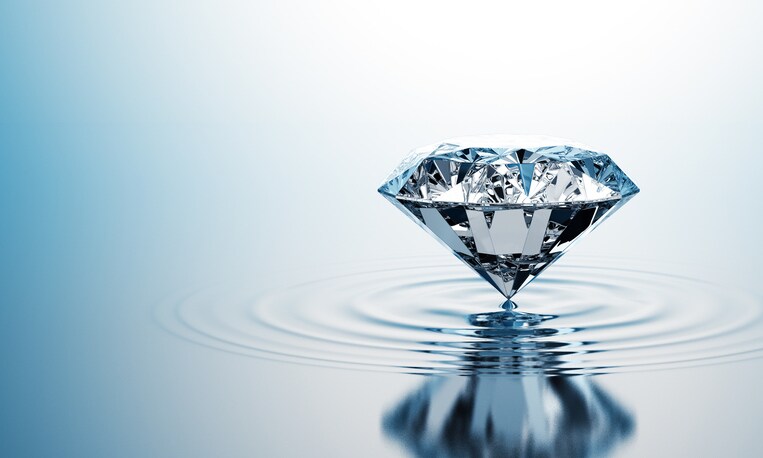 Big diamonds have been big news lately. These include the 1,109 carat Lesedi La Rona and the 812.77 carat Constellation. Recently, Gem Diamonds announced the discovery of the world's fifth-biggest diamond at its Letšeng mine in Lesotho. While such finds generate lots of excitement, the less flashy industrial diamond market is where the real money is.
70% of mined diamonds, known as bort, are sold for industrial applications. These natural diamonds account for only about 1% of all industrial diamond used; synthetic diamond accounts for the remainder. Synthetic diamonds are chemically identical to natural diamond but can be manufactured in large quantities and tailored to specific applications including computer chip production, construction, machinery manufacturing, mining operations such as drilling for minerals, natural gas, and oil exploration, stone cutting and polishing, and transportation systems.
Of the 30% of diamonds that are gem quality and suitable for jewelry, Canada is one of the top three diamond producing countries in the world on the basis of carats produced. While many associate the diamond industry with Africa, Canada has been a major diamond producer for two decades, and will likely to continue to be with new mines at Gahcho Kué, Renard, and Chidliak.
According to an article on geology.com, Canadian diamonds are high-quality gemstones produced by open pit mining that are very popular among Canadians who want to support the diamond industry of their own country. Canadian diamonds are highly regarded because Canadian diamond mines have some of the world's highest environmental standards. They are also conflict-free, having undergone a certification process that allows the stones to be tracked from mine through manufacturing, wholesaling and to the retail consumer. Many diamonds that have been mined and cut in Canada are documented and have their certificate number laser-inscribed on their girdle along with a trade logo such as a maple leaf, polar bear, CanadaMark symbol, or the words "Ice on Fire." This inscription assures consumers of their diamond's origin.
Natural diamonds, both gem and industrial quality, are the product of either open pit or underground mining, in which diamonds are contained in kimberlite pipes, or they are extracted from alluvial deposits in riverbeds, coastal, and undersea locations. Each scenario requires an efficient and streamlined mining process to recover the most diamonds in the most economical way. Miners determine if a kimberlite pipe is worth pursuing by conducting regional sampling schemes and airborne geophysical surveys in a precise search area. Once a list of the best targets is assembled, grade analysis is done to find out if the kimberlite is sufficiently diamondiferous.
Recommended reading to learn more about industrial and gem-quality diamonds:
Synthetic Industrial Diamonds Rule. Will the Jewelry Business Catch Up?
Diamonds: Not Always Hard to Find?
Industrial Diamonds – As Good as Gemstones, or Better?
Explore more aspects of mining, exploration, processing, and mineral analysis in the Cement, Coal, and Minerals Learning Center.