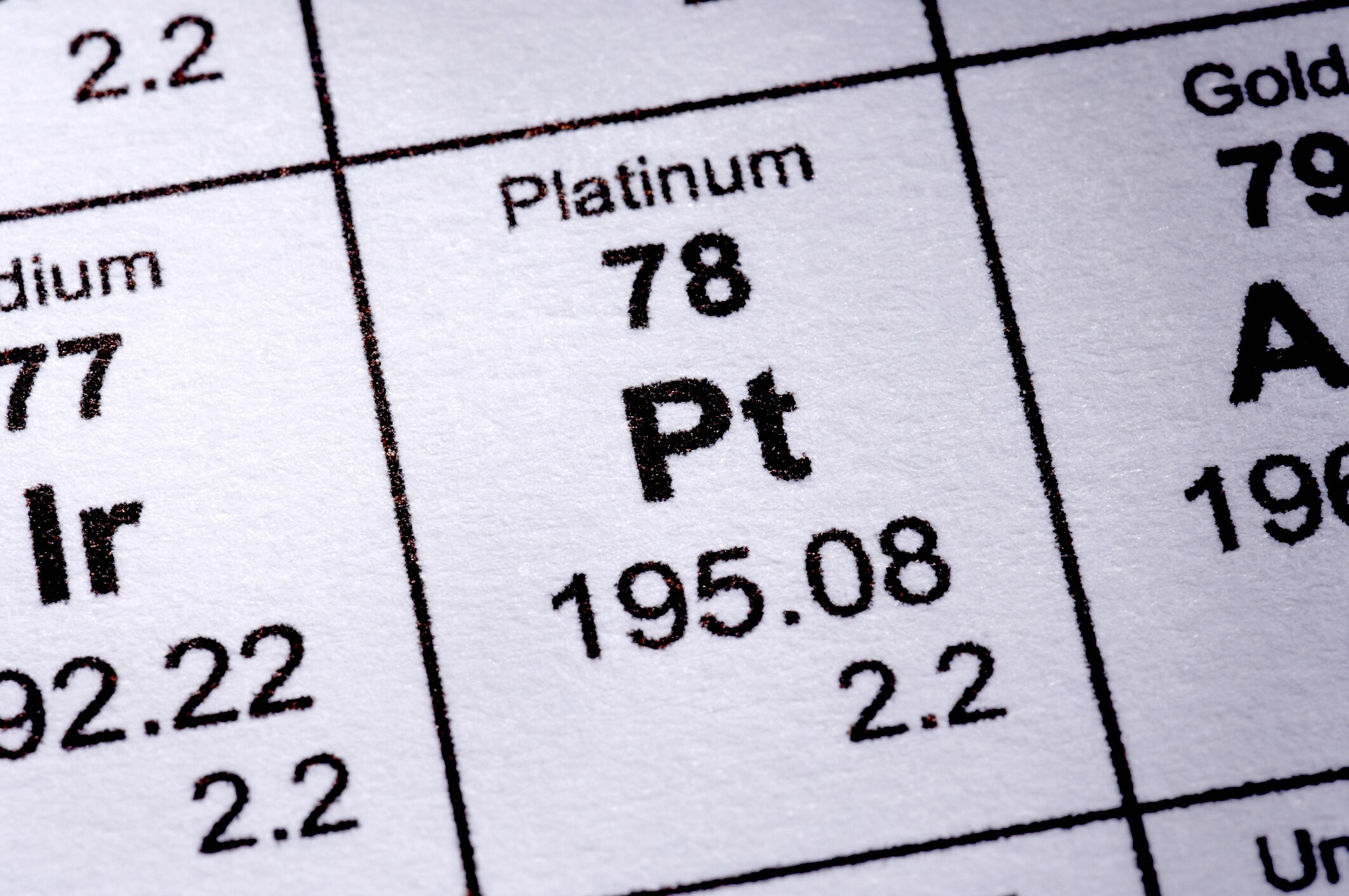 The six platinum group metals (PGMs), which are platinum (Pt), palladium (Pd), rhodium (Rh), iridium (Ir), ruthenium (Ru) and osmium (Os) are structurally and chemically similar elements that occur together in nature, typically in ores containing nickel and copper. The PGMs are in high demand due to their numerous industrial, electronic, and medical applications, but mining these valuable minerals is fraught with difficulty.
Mineable PGM deposits are very rare and much less productive than those containing many common metals. Most PGM mining takes place in South Africa's Bushveld Complex and in Russia, with small amounts produced in Canada, the United States, and Zimbabwe. Platinum and palladium occur in the highest quantities and are the most widely used. The other four PGMs are mined as by-products of platinum and palladium.
The U.S. Geological Survey's 2014 Platinum Group Elements Fact Sheet describes some of the physical qualities that make it so difficult to locate productive, mineable PGM deposits.
The Earth's upper crust contains only about 0.0005 parts per million (ppm) platinum.
The average grade of platinum-group elements (PGEs) in ores mined for their PGE concentrations range from 5 to 15 ppm.
In most rocks, platinum-group minerals range in size from less than a micron to a few hundred microns in diameter, so the presence of PGEs must be confirmed by laboratory analysis.
Over 100 minerals contain PGEs as an essential component.
PGM Extraction and Refinement Techniques
PGM extraction and refinement is also a capital- and labor-intensive process. According to the International Platinum Group Metals Association (IPA), it can take as long as six months from initial mining activities to produce the final metal. PGM ore is mined typically underground but sometimes in open-cast pits. The process from extraction to final product involves crushing and milling the ore into fine particles, concentrating the particles using froth flotation followed by drying and smelting at high temperature, removing iron and sulfur, and finally, separating out the base metals (nickel, copper, cobalt) and refining the PGMs using a variety of techniques such as solvent extraction, distillation, and ion exchange treatment.
Because the PGMs are so rare and challenging to mine, innovative mining and exploration technologies are needed to locate these elusive but profitable deposits.  In most instances – such as mining, ore grade control, and exploration of rich zones – precious metals, including the PGMs, can be detected directly using handheld x-ray fluorescence (XRF) analyzers. In other occurrences – where very low concentrations of these metals are under exploration – pathfinder elements can be used successfully as exploration tools to locate potential zones.
The pathfinder elements, along with precious metals, are enriched in anomalous areas and are easily detected compared to the target elements. Analysis of PGE pathfinder elements using handheld XRF analyzers is emerging as a valuable tool in precious metal exploration operations because they deliver rapid sample analysis and reliable data that enables mining companies to increase their discovery success rates, target the highest quality deposits, and increase productivity – and profits.
To investigate the application of handheld XRF analyzers in PGE exploration, 63 samples were collected along a stratigraphic section of the Bushveld Complex. The samples then were analyzed by a commercial lab using ICP compared with two types of XRF analyzers. This study shows that it is possible to successfully locate zones of high concentrations of precious metals (Pt, Pd, and Au, in this case) by using portable XRF on pathfinder elements. See the results in this application note.