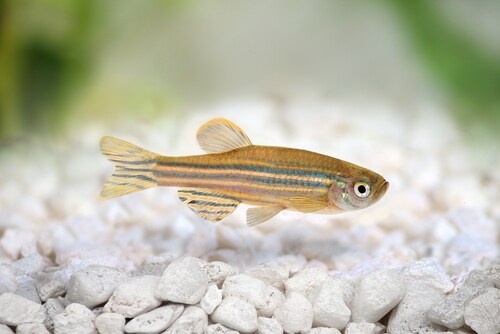 Kessels et al. (2014) recently showed that, proteomically, zebrafish skeletal development is comparable with other vertebrates, thus confirming it as an ideal model organism for studying chondral and intramembranous ossification.1
The researchers used a label-free mass spectrometry-based proteomics approach to characterize and quantify the extracellular matrix (ECM) proteins of zebrafish from the larval stage into adulthood. ECM proteins, including collagens and proteoglycans, play an important role in the appropriate development of bone and skeletal tissue, ensuring strength and functionality. As an experimental model of choice for skeletal development, zebrafish are well studied, showing molecular and biological similarities to humans. Less is known, however, about the protein changes associated with mesenchymal differentiation into bone-forming osteoblasts.
The scientists bred zebrafish according to standard conditions, harvesting fertilized eggs and then studying the embryos at days 14 (larvae), 28 (juveniles) and 358 (adults) post-fertilization. After euthanizing the fish, researchers dissected three distinct body regions—craniofacial, axial and caudal fin (at days 28 and 358 only, since sufficient tissue was not available from larvae). They isolated the skeletal elements from 500 larval zebrafish, 100 juveniles and 15 adults, then used a sequential protein extraction procedure, modified to prevent excessive protein loss. After trypsin digestion, the researchers analyzed the peptides by liquid chromatography–tandem mass spectrometry (LC-MS/MS) on an LTQ Orbitrap XL hybrid ion trap-Orbitrap mass spectrometer (Thermo Scientific). They searched the MS/MS data against the UniProt zebrafish database, using a label-free approach to quantify protein abundance.
The researchers used gene ontology (GO) information, analyzing the proteins identified with the Software Tool for Researching Annotations of Proteins (STRAP) program, to demonstrate extracellular location. Where zebrafish information was not available, they used human orthologs to assign GO status. Kessels et al. confirmed the site of protein synthesis with in-situ mRNA hybridization of 28-day fish, showing that the ECM proteins identified came from skeletal tissue cells.
The data identified 262 ECM proteins from the three developmental stages and body regions studied. These included structural proteins such as collagen, in addition to those involved in the regulation of skeletal development, such as insulin-like growth factor binding protein 5 (IGFBP-5).
Label-free quantification showed differential expression in 123 proteins according to developmental stage. When examined at the body region level, 74 proteins showed differential expression in the craniofacial area, and 8 exhibited differential expression in the caudal fin area (at days 28 and 358 only), with the remainder showing change in abundance in axial skeletal tissues. In addition to changes in protein expression with each stage, the researchers found differences in the proteins found in each body region. Moreover, the scientists found 6 novel proteins not previously associated with vertebrate osteogenesis and 52 whose role at the protein level in zebrafish skeletal development constituted a new finding.
In their presentation and discussion of proteins identified, the researchers show that their data demonstrate the role of the ECM proteome in the skeletal development of zebrafish. Kessels et al. comment on the similarity between the zebrafish ECM proteome and that of other vertebrates, suggesting that their data will be valuable in future skeletal development studies.
Reference
1. Kessels, M.Y., et al. (2014, March) "Proteomics Analysis of the Zebrafish Skeletal Extracellular Matrix," PLOS ONE 9(3) (p. e90568), doi: 10.1371/journal.pone.0090568.
Post Author: Amanda Maxwell. Mixed media artist; blogger and social media communicator; clinical scientist and writer.
A digital space explorer, engaging readers by translating complex theories and subjects creatively into everyday language.