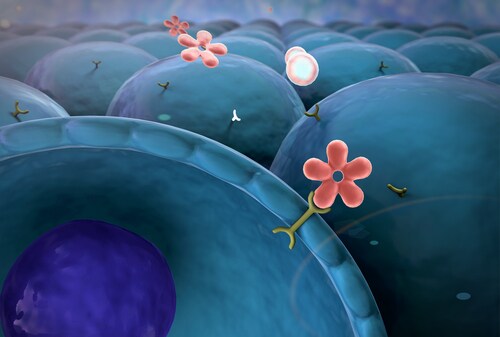 Cell penetrating peptides (CPPs), once thought of as inert and biologically inactive, can easily cross cell membranes to deliver drugs and other molecules into the cell. Recent evidence, however, has shown that certain classes of these vectors can interact with cellular components and influence biological processes such as cellular entry pathways. For example, arginine-rich CPPs can interact with certain blood proteins, while others use G-actin as an intermediary to remodel the actin cytoskeleton.
Using a proteomics approach that combines sample enrichment with mass spectrometry, Claviera et al. (2014) have characterized the interacting partners of two CPPs, (R/W)9 and (R/W)16, that are proposed to possess biological activity.1 Their experimental design examined both intact complexes and peptide digests to show abundance and type of binding sites involved in these interactions. By mapping the interaction domains, the researchers hope to understand more about the potential biological activity and functionality of these previously supposed inert delivery vectors.
First, the researchers created biotinylated analogs of (R/W)9 and (R/W)16 as CPP constructs that were chemically cross-linked with either albumin or actin, previously shown as interacting partners of the two vectors. The scientists examined the intact complexes using linear mode matrix-assisted laser desorption/ionization–tandem time-of-flight (MALDI-TOF/TOF) analysis. They developed a software workflow, SIMUL-XL, to identify the cross-linking compositions and also the potential number of binding sites available. Their analyses, at both 1:1 and excess ratios, showed the average number of covalent interactions between CPP and proteins, with the results validating the efficiency of the in vitro cross-linking system.
Claviera et al. continued their investigation, using a bottom-up proteomics analysis to characterize the binding zones involved in the protein–CPP interactions. Following trypsin digestion, the researchers used streptavidin affinity purification to pull out the biotinylated complexes and enrich the low-abundance peptides within their samples. They examined the resulting peptide digests using both MALDI-TOF and MALDI-TOF/TOF analysis and nano-liquid chromatography electrospray ionization–tandem mass spectrometry (nano-LC ESI-MS/MS) analysis through a Dionex UltiMate 3000 Nano high-performance LC system coupled to an LTQ Orbitrap XL hybrid ion trap-Orbitrap mass spectrometer (both Thermo Scientific).
Both data sets gave consistent and reproducible results, characterizing the interaction domains for the protein–CPP interaction sites and indicating the lysine residues in action, with nano-LC ESI-MS/MS analysis adapting better to an automated workflow and giving better quality results for the more complex mixtures.
The scientists repeated the cross-linking experiments and obtained consistent data that characterized the same interaction zones for each CPP–protein pair. With this data, Clavier and colleagues are confident that their methodology is transferable to the study of other CPPs and will be a valuable resource for investigating potential biological activity in these "not so inert" delivery vectors.
Reference
1. Claviera, S., et al. (2014, June) "An integrated cross-linking-MS approach to investigate cell penetrating peptides interacting partners," EuPA Open Proteomics, 3 (pp. 229–38), doi: 10.1016/j.euprot.2014.03.002.
Post Author: Amanda Maxwell. Mixed media artist; blogger and social media communicator; clinical scientist and writer.
A digital space explorer, engaging readers by translating complex theories and subjects creatively into everyday language.