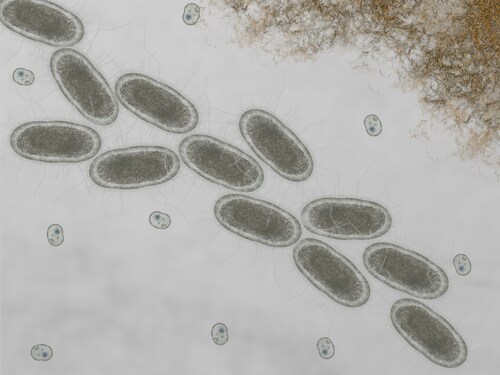 Selective pressure in response to antibiotic drug treatments is giving rise to drug-resistant and, even more concerning, multi-drug-resistant bacteria. This growing concern is enough to keep epidemiologists up at night. Fortunately, a new class of compounds, antimicrobial peptides (AMPs), use different mechanisms to target pathogens. AMPs and proline-rich AMPs, such as apidaecin 1b, produced in honeybees, show promise in clinical applications treating multi-drug resistance.
Since bacteria are constantly evolving, it is imperative to investigate and identify mechanisms behind bacterial resistance. To this end, Schmidt et al. created an apidaecin 1b–resistant strain of Escherichia coli, BL21AI Apir, and looked for proteomic differences compared with the wild type E. coli BL21AI strain.1
The team incubated the E. coli with increasing, sublethal concentrations of apidaecin 1b to induce resistance. They incubated the proteins for six hours in six replicates. The following day, they repeated this process with fresh cultures, for a total of 24 samples. Next, they harvested the cells, lysed them and digested them with trypsin. Following this, they used 2-D gel electrophoresis and a liquid chromatography system, coupled online to an LTQ Orbitrap XL mass spectrometer (Thermo Scientific). They also isolated DNA from both the wild type and the apidaecin 1b–resistant E. coli BL21AI strains.
This approach identified 2,131 proteins in the cytosolic fraction and 1,296 proteins in the membrane fraction. The authors report that the relative quantities of each protein varied only slightly (< 10%) among the biological replicates of a given strain. This was also in agreement with the data differential 2-D gel electrophoresis. Among these proteins, they detected 47 proteins at significantly different quantities in the cytosolic fractions of both E. coli strains in the two independent experiments. Additionally, they identified 29 upregulated soluble proteins and 18 downregulated proteins in the resistant E. coli strain. They also found four upregulated membrane proteins and nine downregulated proteins in the resistant strain.
In terms of protein function, they found reduced expression levels of cold-shock domain DNA-binding protein (day one: 34%; day two: 45%), DNA protection during starvation protein (day one: 55%; day two: 45%) and stress-induced protein YgiW (day one: 41%; day two: 37%). Meanwhile, the expression levels of three proteins, periplasmic chaperone FimC, fimbrial protein FimA and mannose-binding domain protein FimH, decreased to 10% or less.
Also notable, the authors found that type 1 fimbriae proteins were not expressed in E. coli BL21AI Apir. This indicates that the resistant strains lack the short, thin, fringe-like projections that aid in adhesion binding to mammalian cells. Knockout experiments revealed the mutant of E. coli BW25113 was eight times less susceptible to apidaecin 1b and the related designer peptide Api88. This work will hopefully lead to new discoveries in treatment options for bacterial infections.
Reference
1. Schmidt, R., et al. (2016) "Identification of new resistance mechanisms in Escherichia coli against apidaecin 1b using quantitative gel- and LC-MS-based proteomics," Journal of Proteome Research, 15(8) (pp. 2607–2617), doi: 10.1021/acs.jproteome.6b00169.