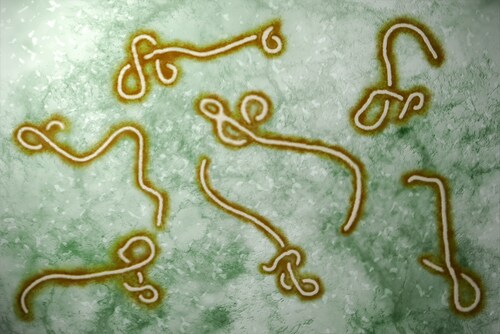 The Ebola virus (EBOV), like others of the family Filoviridae, is a filamentous virus enveloped by a lipid membrane and containing a negative-sense, single-stranded RNA genome. The EBOV genome encodes five nucleocapsid proteins and two proteins associated with the viral matrix. Most notably, the matrix protein VP40 has been shown to recruit the nucleocapsid and glycoprotein (GP) to the plasma membrane for assembly and budding.1 VP40 is also necessary for the formation of the filamentous viral particles.
According to Radzimanowski et al., EBOV might make up for its small genome by packing multiple functions into different conformations of the same protein. A recent review article published by this same research group provides important insight into the structural properties of EBOV protein VP40.2
To better understand VP40 function, the researchers compared EBOV with similar viruses. The Marburg virus, another member of the Filoviridae family, also causes severe hemorrhagic fever with high fatality rates and, on the protein level, Marburg VP40 also plays an important role in budding. The researchers explain that their previous work revealed that Marburg virus nucleocapsids travel along actin filaments. When it reaches the plasma membrane, the nucleocapsid associates with VP40 and transfers to filopodia. From there, the retrograde endosomal transport recruits the Marburg VP40 to the plasma membrane. In a similar fashion, EBOV VP40 moves along actin filaments. Then, by the end of budding, endosomal sorting complexes required for transport (ESCRTs) head to the budding sites via late domains present in viral structural proteins. EBOV and Marburg VP40 both contain two overlapping late domains, and the Marburg virus includes the same motifs present in VP40.
This research group also reported on VP40's crystalline structure, which contains two structurally related N- and C-terminal beta sandwich domains (NTD and CTD) that pack against each other in a closed conformation. The researchers suggest that the N-terminal region contributes to the stability of VP40 by reaching over to the CTD. This, in turn, increases the protease resistance to trypsin cleavage at position 212 in vitro. They report it is also possible to induce complete oligomerization via the NTD, through artificial destabilization of the NTD–CTD interface.
The scientists further explain that EBOV VP40 exists in a wide range of conformational states. Initial experiments have shown VP40 as a monomer in solution, based on chemical cross-linking experiments performed at pH 8.8 and protein concentrations of <2 mg/mL. Size exclusion chromatography and multiangle light scattering have revealed dimers in solution at protein concentrations of 2 mg/mL. The researchers also report EBOV has previously been seen assembling as a ring-like hexamer and RNA-bound octamers.
Ultimately, the conformational changes in the matrix protein VP40 may lead to potential treatments for EBOV. The researchers call for additional studies to determine if EBOV VP40 is also conserved in the case of matrix proteins from other viruses, such as paramyxoviruses and bornaviruses.
References
1. Kolesnikova, L., et al. (2007) "Basolateral budding of Marburg virus: VP40 retargets viral glycoprotein GP to the basolateral surface," Journal of Infectious Diseases, 196 (pp. S232–6).
2. Radzimanowski, J., Effantin, G, and Weissenhorn, W. (2014, August) "Conformational plasticity of the Ebola virus matrix protein," Protein Science, doi: 10.1002/pro.2541 [e-pub ahead of print].
Post Author: Emily Humphreys. As a biology undergraduate at the University of Utah, Emily balanced a heavy class schedule while working long hours in a lab studying eye development. Following graduation, she became involved in infectious disease and aging research involving SNPS.
While she enjoyed the thrill of research, Emily has since traded bench work for science journalism.
And has been a regular contributor to Accelerating Science since 2012.