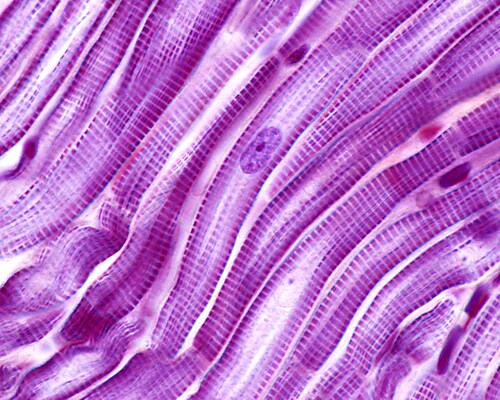 Cardiac extracellular matrix (ECM) proteins account for physiological properties of the cardiac tissue, but they also contribute to fibrosis and hypertrophy in disease. ECM deposition facilitates development of ectopic pacemakers and late potentials by creating inhomogeneous stimulus conduction. Further, ECM proteins can lead to fluctuations in membrane potential. Barallobre-Barreiro et al. (2016) analyzed atrial specimens using mass spectrometry to take a closer look at human cardiac ECM.1
The researchers collected samples from 65 patients undergoing cardiac surgery at St. George's medical school at the University of London, United Kingdom. The researchers specifically collected tissue from the atrial appendages, both left (LAA) and right (RAA), during cardiopulmonary bypass and just after cardioplegic arrest. The investigators used a three-step extraction method on the ECM to enrich the proteins. This involved sequential incubation for one hour, 16 hours and 48 hours, in 0.5 M NaCl, 0.1% sodium dodecyl sulfate and 4 M guanidine hydrochloride, respectively.
They then subjected the samples to liquid chromatography–tandem mass spectrometry (LC-MS/MS) using an Orbitrap Elite mass spectrometer (Thermo Scientific) and matched the MS/MS peaks to a human database using Mascot version 2.3.01. To identify glycosylation sites, Barallobre-Barreiro et al. used a combination of different fragmentation modes on the mass spectrometer, using a method described previously by Saba et al (2012).2
The LAA of the glycoprotein-enriched fraction had higher levels of nidogen 2 and cadherin 2. However, in RAA, they found higher levels of latent-transforming growth factor beta-binding protein 4, fibulin 2, lumina and vitronectin. In total, they identified 65 N- and O-linked glycosylation sites in 35 extracellular proteins. They predominantly identified complex N-glycoforms, as well as some sialylated or core fucosylated. After enriching for glycoproteins, Barallobre-Barreiro et al. consistently identified the non-glycosylated N-terminal half of decorin peptides in the flow-through. They detected 18 cleavage sites for decorin.
Clinically, atrial fibrillation is the most common arrhythmia, resulting in significant morbidity and mortality. Therefore, the investigators compared LAA from patients in sinus rhythm with those with postoperative atrial fibrillation, and in persistent atrial fibrillation. They found that although decorin did not change at the transcript level, prolonged atrial fibrillation inflicted structural damage with higher levels of the full-length and the 45 kDa forms of decorin.
Based on the MS/MS data, non-tryptic decorin peptides predominantly originated from four sites, according to their absolute abundances: Val65-Gln66, Leu79-Pro80, Ser121-Pro122 and Phe330-Ser331. In atrial fibrillation, thy found an additional cleavage site, at Ser49-Leu50, next to an N-terminal domain that inhibits myostatin.
Barallobre-Barreiro et al. used a proteomics approach to identify endogenous decorin cleavage products in atrial fibrillation that may contribute to atrial remodeling. In doing so, they suggest that these decorins play a previously unrecognized role in arrhythmias by altering the local bioavailability of certain growth factors. Further, this was the first study to characterize ECM proteins in humans.
References
1. Barallobre-Barreiro, J., et al. (2016) "Glycoproteomics reveals decorin peptides with anti-myostatin activity in human atrial fibrillation," Circulation, 134(11) (pp. 817–832), doi: 10.1161/CIRCULATIONAHA.115.016423.
2. Saba, J., et al. (2012) "Increasing the productivity of glycopeptides analysis by using higher-energy collision dissociation-accurate mass-product-dependent electron transfer dissociation," International Journal of Proteomics, 2012(560391), doi: 10.1155/2012/560391.
Post Author: Miriam Pollak. Miriam is a Nutritionist specialising in women's health and works from her Sydney clinic and has recently published her research on the association between diet, exercise and postnatal depression.
Prior to this, Miriam majored in neuroscience as an undergraduate before completing a post graduate degree in science communication. She spent over a decade working in science communication and medical research, collaborating with some of the best oncologists and researchers in Australia and the U.S.