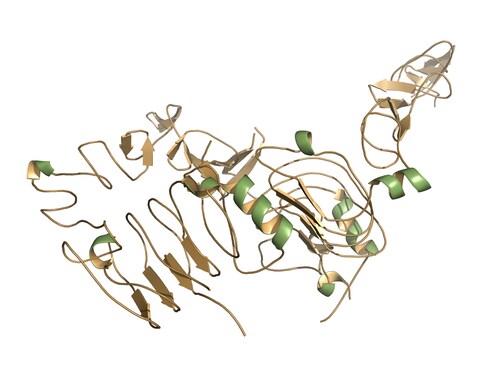 Wu and colleagues (2014) have published an improved mass spectrometry (MS) workflow with parallel data acquisition for efficient, sensitive identification and sequencing of intact glycopeptides.1 Pulling together the enhanced specifications of the new Orbitrap Fusion Tribrid mass spectrometer from Thermo Scientific, the researchers present a product-dependent, parallel data-acquisition and data-analysis workflow that reduces false positives, in addition to accurately identifying the glycopeptide backbone.
MS-based glycoproteomic studies accurately characterize the glycopeptides under examination. This involves pinpointing the glycosylation site, the type of glycan involved and the peptide backbone core. Currently with MS-based strategies, tandem MS (MS/MS) fragmentation and data analysis problems hamper efficient characterization of intact glycopeptides. Wu et al. overcame these problems, however, by including the parallel ion-trap collision induced dissociation (CID) MS/MS data acquisition functionality of the Orbitrap Fusion Tribrid instrument. Their combined data acquisition strategy is beneficial for glycoproteomic research, including simultaneous N- and O-glycosylation characterization and analysis in a single experimental run.
The researchers took human soluble epidermal growth factor receptor (sEGFR) expressed in HEK293 cells and digested it with trypsin. They then analyzed the peptides via liquid chromatography–tandem mass spectrometry (LC-MS/MS) using the Orbitrap Fusion Tribrid mass spectrometer coupled with an EASY-nano-LC liquid chromatograph (both Thermo Scientific).
Following what the researchers describe as an Orbitrap survey scan, the analysis proceeded with data-dependent acquisition of higher-energy collision dissociation (HCD) MS/MS. From this step, a product-ion-dependent CID/ETD (electron transfer dissociation) MS/MS step focused on the abundant and highly specific glyco-oxonium ions. The team acquired data for analysis from both the CID spectra and the ETD MS/MS data, using the latter for direct glycopeptide identification.
Using Sweet-Heart, a suite of software tools allowing for automated MS/MS and MS3 characterization of glycopeptides, the authors examined the CID spectra to establish glycoforms for intact glycopeptides.2 They modified the software for HCD analysis to uncover the Y1-based glycopeptide backbone for classification.
In summary, Wu and co-authors combined the three different MS/MS modes into one data acquisition run as a novel, HCD-product-dependent-CID/ETD workflow. The product-dependent part of the workflow limited data collection to glyco-oxonium ions only.
When reporting their findings, the authors noted the ease with which they could navigate the user interface on the Orbitrap Fusion Tribrid mass spectrometer to customize workflows for flexible data acquisition. They found that HCD was better for matching glycopeptide identities than ETD, because the technique produced greater quantities of glyco-oxonium ions for onward analysis in the CID/ETD MS/MS step. Although they considered that ETD did not function well for N-glycosylation analysis, it did improve findings in O-glycosylation characterization. They found that the CID step was important for glycan sequencing.
Wu et al. propose that linking the preceding HCD acquisition step to restrict onward CID analysis to glycopeptides only was a key advantage offered by the Orbitrap Fusion Tribrid instrumentation. They suggest that integration of ETD data with improvements in scoring algorithms would enhance data output as a step forward in MS-based proteomic analysis of glycopeptides.
References
1. Wu, S.-W., et al. (2014, May) "A novel LC-MS2 product dependent parallel data acquisition function and data analysis workflow for sequencing and identification of intact glycopeptides," Analytical Chemistry, 86 (pp. 5478–86), doi: 10.1021/ac500945m.
2. Wu, S.-W., et al. (2013) "Sweet-Heart: An integrated suite of enabling computational tools for automated MS2/MS3 sequencing and identification of glycopeptides," Journal of Proteomics, 84 (pp. 1–16).
Post Author: Amanda Maxwell. Mixed media artist; blogger and social media communicator; clinical scientist and writer.
A digital space explorer, engaging readers by translating complex theories and subjects creatively into everyday language.