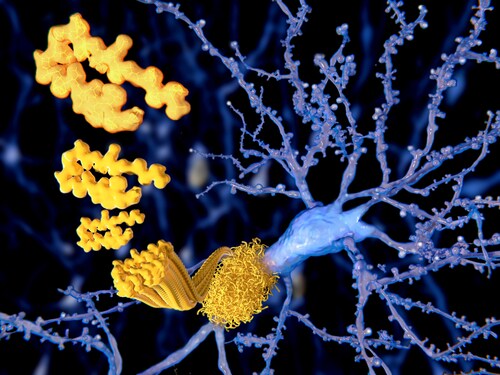 In a currently trending editorial, a team of researchers and clinicians highlight what they describe as a critical yet neglected aspect of Alzheimer's Disease– the relationship between disease development and microbes localized in the brain.1 These include herpes simplex virus type 1 (HSV1) and Chlamydia pneumoniae as well as several types of spirochaete. The team indicates that refocusing on these areas of study could produce treatments to slow or stop disease progression.
Further to this, the researchers suggest that the diagnostic markers of Alzheimer's Disease–namely plaques of aggregated amyloid-β (Aβ) peptides and abnormal tau proteins– may not be causative in nature but rather indications of infectious etiology. In this model, infectious agents (HSV1, Chlamydia pneumonia, and spirochetes) localize to the central nervous system where they lie dormant until age-related stress and immunosuppression reactivate them in the brain and periphery. As a result of direct viral action and inflammation, neuronal damage occurs and, over time, participates in progressive synaptic dysfunction, neuronal loss, and the development of Alzheimer's Disease.
Using the significant body of research, the team offers point-by-point evidence for infectious activity and causation underlying the development of Alzheimer's Disease, including the potential for a mechanistic role for Aβ, which comprises the focus here. Specific to this, the researchers indicate that viral infection selectively upregulates cholesterol 25-hydroxylase (CH25H) and that polymorphisms in human CH25H regulate both Aβ induction/aggregation and susceptibility to Alzheimer's Disease.2 The team suggests Aβ production could be a target of the enzymatic product of CH25H (25-hydroxycholesterol, 25OHC) and that this could be a key link between infection and Aβ induction.3
Further, the team references approximately 100 publications that point to a direct or indirect link between HSV1 and Alzheimer's Disease, including multiple studies indicating specific viral risk for carriers of the ɛ4 allele of apolipoprotein E (APOE), a known susceptibility factor for Alzheimer's Disease.4 Despite this, the authors report an overall dismissive response to this research.
Noting the physical, emotional, and economic consequences associated with Alzheimer's Disease as well as the abject failures of the 413 therapeutic trials between 2002 and 2012,5 Itzhaki et al. propose a community refocus to research likely to elucidate the probable link between Alzheimer's Disease and infectious causation. Further, they indicate justification for drug trials focusing on antimicrobial therapeutics, particularly for patients who are APOE ɛ 4 carriers.
References
1 Itzhaki, R. F. et al. (2016) 'Microbes and Alzheimer's Disease.' Journal of Alzheimer's Disease, DOI: 10.3233/JAD-160152
2 Papassotiropoulos, A. et al. (2005)' Cholesterol 25-hydroxylase on chromosome 10q is a susceptibility gene for sporadic Alzheimer's disease.' Neurodegenerative Disease 2: 233–241.
3 Lathe, R. et al. (2014) 'Atherosclerosis and Alzheimer –diseases with a common cause? Inflammation, oxysterols, vasculature.' BMC Geriatrics 14: 36.
4 Itzhaki, R.F. et al. (1997) 'Herpes simplex virus type 1 in brain and risk of Alzheimer's disease.' Lancet 349: 241–244.
5 Cummings, J.L. et al. (2014) 'Alzheimer's disease drug-development pipeline: Few candidates, frequent failures.' Alzheimer's Research & Therapy 6: 37.
Post Author: Melissa J. Mayer. Melissa is a freelance writer who specializes in science journalism. She possesses passion for and experience in the fields of proteomics, cellular/molecular biology, microbiology, biochemistry, and immunology. Melissa is also bilingual (Spanish) and holds a teaching certificate with a biology endorsement.