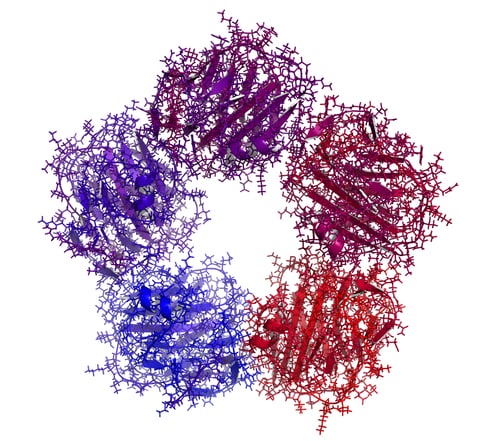 The pathogenesis of Huntington's Disease (HD) and other neurodegenerative disorders has been previously attributed to increases and decreases in components of the complement system.1 The complement system comprises a number of distinct plasma proteins inducing a series of inflammatory responses that help to fight infection.2 Rezeli et al. have developed a new quantitative mass spectrometry (MS) assay to measure the complement components and C-reactive protein in patients with HD and pre-manifest HD.3
Multiple reaction monitoring (MRM) assays have the highest duty cycle that can monitor one or more specific ion transitions with high sensitivity. Combined with appropriate stable isotope-labeled internal standards, an MRM approach provides absolute quantification of analyte concentration. MRM methods may be better suited to the requirements of clinical applications than other MS-based protein quantification because of MRM's high reproducibility and parallel measurement capabilities; at present, MS approaches are not routinely adopted in clinical laboratories.
The study compared 30 healthy controls, 30 pre-manifest HD individuals and 30 early-HD individuals; the seven most abundant proteins were depleted. The researchers analyzed the plasma pooled from 16 individuals and 90 individual patient samples with early- and pre-manifest HD. Results from the individual samples confirmed the observations of the pooled samples. The research team then combined depleted plasma samples into two flow-through fractions and reduced the proteins before digestion with sequence grade trypsin. Samples were then spiked with a mixture of heavy isotope-labeled peptide standards (12.5 fmol/µL final concentration for each peptide) and analyzed by nanoLC–MRM-MS using a TSQ Vantage triple stage quadrupole mass spectrometer equipped with an EASY-nLC II pump (Thermo Scientific). Rezeli et al. injected 2 μL of samples onto an EASY C18-A1 pre-column (Thermo Scientific), and the peptides were separated. They used a scheduled method for data acquisition with 4-minute time windows, setting the cycle time to 1.5 seconds. They used the three best transitions for quantification.
Rezeli et al. measured some of the markers simultaneously with antibody-based assays for comparison. There was good agreement between the assays for C-reactive protein (CRP), but not for the assays for complement factor H (CFH) or complement component 3 (C3). The investigators noted these findings to be contradictory to findings in other studies. CRP is a relatively small molecule in comparison with C3 and CFH, which have many different antigens. Perhaps using a different antibody with greater specificity would have yielded a different outcome.
Although the results were not the expected results of previous complement studies, the paper presents a reproducible, quantitative MS assay for measuring complement components and CRP.
References
1. Dalrymple, A., et al. (2007) "Proteomic Profiling of Plasma in Huntington's Disease Reveals Neuroinflammatory Activation and Biomarker Candidates," Journal of Proteome Research, 6(7) (pp. 2833–40).
2. Janeway, C.A., et al. (2001) Immunobiology: The Immune System in Health and Disease, 5th Edition, New York: Garland Publishing.
3. Rezeli, M., et al. (2014) "Inflammatory markers in Huntington's disease plasma—A robust nanoLC–MRM-MS assay development," EuPA Open Proteomics, 3 (pp. 68–75).
Post Author: Miriam Pollak. Miriam specialised in neuroscience as an undergraduate but traded in lab work for a post graduate degree in science communication.
She has since had a career that has spanned science communication, science education and communications management.
However, Miriam has found her bliss balancing her love of writing and disseminating medical research with managing a multimillion dollar research budget for a childhood cancer charity in Australia.