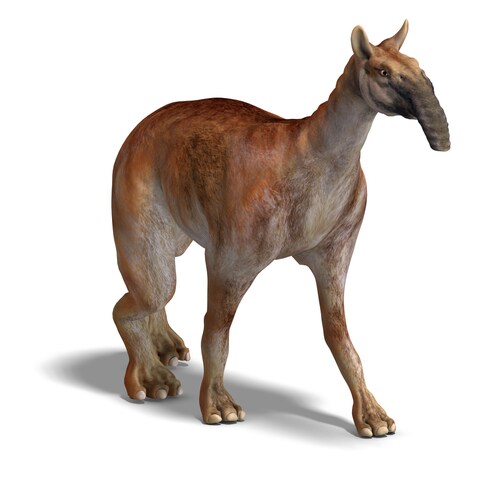 Almost 180 years ago, Charles Darwin unearthed the remains of some ancient South American ungulates dating back to the Miocene and Late Pleistocene epochs. Until very recently, scientists were still unsure where these ancient mammals fit within evolutionary phylogenetic trees. Thanks to proteomics techniques, Welker et al. were finally able to solve this zooarchaeological mystery.1
For their studies, the team concentrated on South American native ungulate taxa Toxodon (Notoungulata, n=22) and Macrauchenia (Litopterna, n=26). They collected bone samples (n=4), and isolated type I collagen (COL1). COL1 is more stable than DNA, and if the specimens are in good condition, it can be recovered from fossils that are up to 4 million years old. Past researchers have also successfully isolated COL1 to help identify other fossils.2
The team of researchers performed a zooarchaeology mass spectrometry screening of selected Macrauchenia and Toxodon ungulates using tandem mass spectrometry (MS/MS) on two different platforms. They used an Ultimate 3000 RSLCnano LC system (Thermo Scientific) to separate proteins. The team analyzed proteins using a Bruker ultraflex matrix-assisted laser desorption/ionization–tandem time of flight (MALDI–TOF/ TOF) mass spectrometer and a Q-Exactive hybrid quadrupole-Orbitrap mass spectrometer (Thermo Scientific) at a resolution of 70,000.
By extracting COL1 from bone samples, the team achieved 90% direct sequence coverage of type I collagen α1 and α2 chains, representing approximately 900 of 1,140 amino-acid residues for each subunit. They took this information and used merged MS/MS data from both platforms, along with an alignment of 76 mammalian COL1 sequences from GenBank to construct a phylogenetic tree based on an outgroup (Gallus).
This allowed the team to reconcile the phylogenetic tree by placing Toxodon and Macrauchenia in a monophyletic group with the sister taxon Perissodactyla (horses, tapirs and rhinoceroses) rather than with the taxa Afrotheria or any of its constituent clades, as previously thought.
These results are consistent with the origin of at least some South American native ungulates, but a few questions still remain about where to put remaining orders, such as Astrapotheria, Xenungulata and Pyrotheria, which roamed the earth much earlier in the fossil record and are well out of the range for COL1 testing.
References
1. Welker, F., et al. (2015) "Ancient proteins resolve the evolutionary history of Darwin's South American ungulates," Nature, 522(7554) (pp. 81–4), doi: 10.1038/nature14249. Epub 2015 Mar 18.
2. Buckley, M. & Collins, M. J. "Collagen survival and its use for species identification in Holocene-lower Pleistocene bone fragments from British archaeological and paleontological sites," Antiqua 1(1), doi: ttp://dx.doi.org/10.4081/antiqua.2011.e1.