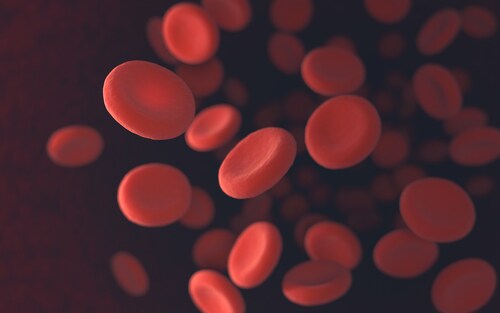 Anemia of chronic disease (ACD) occurs when, as a feature of persistent conditions like infectious or inflammatory disease and cancer, red cell production and hemoglobin decrease despite adequate iron stores. The underlying cause of ACD is over-expressed hepcidin, which restricts the translocation of iron into the plasma. Therapeutics that target hepcidin to treat specific anemia cases require proteomics-derived pharmacokinetic data in order to advance toward clinical trials.
In order to develop treatment options capable of regulating hepcidin levels, clinicians must be able to accurately measure the serum hepcidin concentration. Li et al. composed a liquid chromatography–mass spectrometry (LC-MS) quantitation method, relying on triple quadrupole (QQQ) mass spectrometry with selected reaction monitoring (SRM) and an isotopically labeled internal standard.1 They used Xcalibur software (Thermo Scientific) for data processing.
The research team measured endogenous hepcidin levels in 250-μL serum samples drawn from 80 animals—40 cynomolgus monkeys and 40 mice; the average concentrations were 50 ng/mL and 46 ng/mL, respectively. The team noted that three of the mice presented relatively high hepcidin levels (>76 ng/mL) and that the large serum requirement prevented repeat sampling, limiting the usefulness of this method for very small animals like mice. On the other hand, they found the protocol appropriate for monkey-derived samples.
One potential treatment option for reducing hepcidin is small interfering RNA (siRNA).1 Li et al. administered lipid nanoparticle-formulated siRNA to cynomolgus monkeys and collected serum samples before dosing (at 3, 6 and 9 days) and after dosing (24 hours and 48 hours). After averaging the baseline hepcidin level for each monkey (using pre-dose figures), the team calculated post-administration hepcidin reduction. They report reductions of 87% and 74% at the 24-hour and 48-hour time points, respectively.
Finally, the team turned to an alternate LC-MS protocol to improve sensitivity, particularly in the case of smaller serum samples such as those more readily drawn from mice. For this, they used parallel reaction monitoring (PRM) on a high-resolution Q Exactive hybrid quadrupole-Orbitrap mass spectrometer (Thermo Scientific). With this protocol, they observed sensitivity and specificity increases of greater than ten-fold for mouse hepcidin, when compared to QQQ mass spectrometric results. The Q Exactive mass spectrometer, with its high mass accuracy and ability to obtain large peptide fragment ions, limits serum background noise and allows researchers to achieve comparable results using only 25-μL samples (compared with 250-μL samples for QQQ mass spectrometry). The team asserts that this improvement would reduce stress levels in research animals, especially mice.
Li et al. note that they also analyzed human hepcidin and found the precursor and product ions similar to mouse hepcidin. They indicate that the introduction of newer, more sensitive, versions of these instruments (QQQ and Q Exactive mass spectrometers) would further improve detection limits for human samples. These findings could boost efforts to move hepcidin-targeting treatments for ACD toward clinical studies by offering the means to thoroughly elucidate the pharmacokinetics of the therapeutic compound.
Reference
1. Li, S., et al. (2015, January–February) "Development of LC-MS methods for quantitation of hepcidin and demonstration of siRNA-mediated hepcidin suppression in serum," Journal of Pharmacological and Toxicological Methods, 71 (110–19), doi: 10.1016/j.vascn.2014.09.008.
Post Author: Melissa J. Mayer. Melissa is a freelance writer who specializes in science journalism. She possesses passion for and experience in the fields of proteomics, cellular/molecular biology, microbiology, biochemistry, and immunology. Melissa is also bilingual (Spanish) and holds a teaching certificate with a biology endorsement.