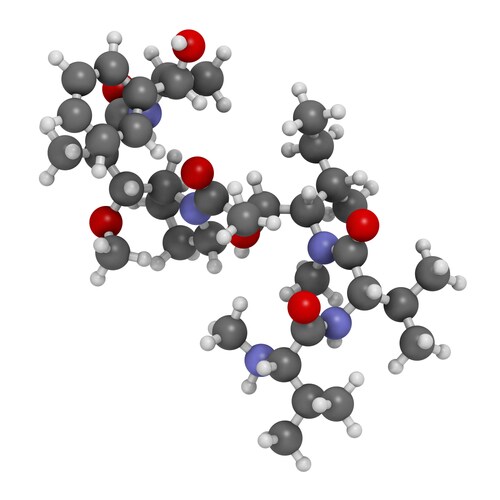 According to Dyachenko et al. (2015), native mass spectrometry (MS) is a promising technique for analyzing antibodies for pharmacology investigations. By implementing a modified Exactive Plus EMR Orbitrap LC-MS system (Thermo Scientific), this research team characterized the antibody-drug conjugate (ADC) brentuximab vedotin.1
Brentuximab vedotin is licensed for the treatment of refractory Hodgkin lymphoma and systemic anaplastic large-cell lymphoma. Researchers are interested in studying ADCs in drugs such as brentuximab vedotin in order to fine-tune their uses as therapeutic drugs, particularly as treatments for cancer.
The modified Exactive Plus EMR mass spectrometer is based upon work by Rose et al. (2012).2 It utilizes a high-mass quadrupole mass selector and favors precursor selection with optimal transmission and detection of ions to 50,000 m/z. Using a combination of high-resolution MS/MS of brentuximab vedotin, along with its macromolecular antibody−antigen assemblies and in addition to high-resolution native MS of hexameric IgG1:sCD38 protein assemblies, the team was able to localize the drug molecules and gain new understandings in molecular and antigen bindings.
Advantages of this workflow include the ability to:
perform MS/MS of native protein assemblies

probe the heterogeneous stoichiometry in ADCs

effectively retrieve data on the site-specific location of the drugs in the antibodies

unambiguously probe the stoichiometry of antigen binding

handle IgG6-antigen protein assemblies with molecular weights over 1 million Da
Putting this workflow into practice, the research team determined that drug conjugation in brentuximab vedotin occurs non-homogeneously to cysteine residues both on the light and heavy chains. Further investigating, the team looked at antigen binding with IgG hexamers, based upon a recently described antibody mutant (IgG1-RGY) that forms hexamers and activates complement in solution. They found that the fully saturated IgG1−RGY−antigen complexes displayed an IgG:CD38 stoichiometry of 6:12, possessing a molecular weight of about 1.26 MDa. They also determined that IgG assembly does not hamper antigen binding.
Dyachenko et al. predict this workflow will lead to more discovery. The team explains that, using the modified Exactive Plus EMR Orbitrap system, the ability to use MS/MS to characterize antigen binding will contribute the necessary analytical tools, thereby furthering drug discovery.
References
1. Dyachenko, A., et al. (2015, June) "Tandem native mass-spectrometry on antibody-drug conjugates and submillion da antibody-antigen protein assemblies on an Orbitrap EMR equipped with a high-mass quadrupole mass selector," Analytical Chemistry, 87 (pp. 6095–102), doi: 10.1021/acs.analchem.5b00788.
2. Rose, R.J., et al. (2012) "High-sensitivity Orbitrap mass analysis of intact macromolecular assemblies," Nature Methods, 9(11) (pp. 1084–86), doi: 10.1038/nmeth.2208.
Post Author: Emily Humphreys. Emily has previous research experience in eye development, infectious diseases, and aging. While she enjoyed the thrill of research, She has since traded bench work for science journalism. Emily has been a regular contributor to Accelerating Science since 2012.