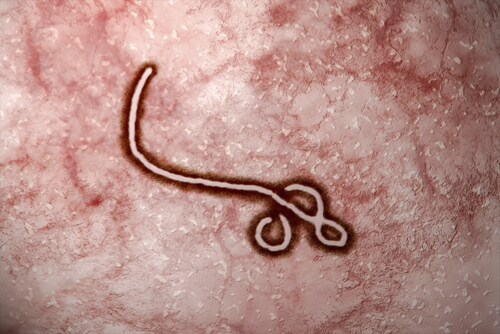 Ebola virus (EBOV), a member of the family Filoviridae, causes an acute hemorrhagic fever with approximately 90% fatality within seven to eleven days in those showing symptoms. Fatal viral infection overwhelms the host immune system, leading to massive inflammatory mediator release in conjunction with T and B cell apoptosis. Survival and asymptomatic disease are possible following infection, however, with these individuals showing good humoral immune responses to the virus.
Becquart et al. (2014) sought to understand the key components of an effective immune response to EBOV infection by mapping viral protein epitopes against IgG+ sera from symptomatic survivors and asymptomatic individuals.1 Using overlapping peptide enzyme-linked immunosorbent assays (ELISAs), the researchers characterized key regions in four EBOV proteins that contribute to the immune response, with a view to developing better therapeutics and detection in order to manage this deadly disease.
The team used serum samples collected from survivors of outbreaks in Gabon between 1996 and 2001. These comprised 15 samples collected seven days post-infection (early response) and 6 samples collected between seven years and twelve years post-infection (late response). They also gathered additional samples from 21 confirmed seropositive but asymptomatic individuals and from a control group of 20 seronegative individuals.
Previous research identified four EBOV proteins of interest—glycoprotein (GP), nucleoprotein (NP), and matrix viral proteins VP40 and VP35. The team synthesized 506 15-mer peptides to map epitopes, constructing them with an 11-amino acid overlap to maximize coverage. They used these synthetic constructs to coat ELISA plates before incubating them with 1:400 dilutions of the patient and control sera. They developed the plates with anti-human IgG peroxidase-labeled antibody and tetramethylbenzidine (Thermo Scientific) for optical density readings, using the control seronegative sera results as a baseline for zero binding.
Serum from infected survivors reacted with synthetic peptide constructs from all the viral proteins under investigation, with the main humoral response directed against GP epitopes. Overall, the ELISAs showed responses to 19 of the GP peptide constructs, compared with responses to 14 peptides for VP35, 8 peptides for NP, and 7 peptides for VP40. Interestingly, there was variation in response; no single peptide was recognized consistently by all survivor samples. Four of the peptide constructs, however, did react with over 50% of the survivor serum samples tested.
In contrast, sera from asymptomatic seropositive individuals showed a different reaction pattern, with the majority of the IgG response directed toward synthetic VP40 peptide constructs. Again, none of the peptides were recognized by all asymptomatic individuals, but more than 70% of the serum samples tested recognized two of the VP40 constructs.
From the peptide results, Becquart and colleagues identified and mapped the immunogenic regions of the four viral proteins, tying the humoral response of antibody binding to protein structures. From this, they could infer inhibition of functional areas of the viral proteins that neutralize infection and that prevent clinical symptoms from arising or progressing. They also found that, although the viral strains associated with the three studied outbreaks differed according to lineage, the immune responses observed were consistently directed to similar immunogenic epitopes. In their conclusions, the researchers exhibit confidence that their epitope mapping results can be developed for new therapeutic or diagnostic options regarding the management of EBOV infection in humans.
Reference
1. Becquart, P., et al. (2014) "Identification of Continuous Human B-Cell Epitopes in the VP35, VP40, Nucleoprotein and Glycoprotein of Ebola Virus," PLOS ONE, 9(6) (p. e96360), doi: 10.1371/journal.pone.0096360.
Post Author: Amanda Maxwell. Mixed media artist; blogger and social media communicator; clinical scientist and writer.
A digital space explorer, engaging readers by translating complex theories and subjects creatively into everyday language.