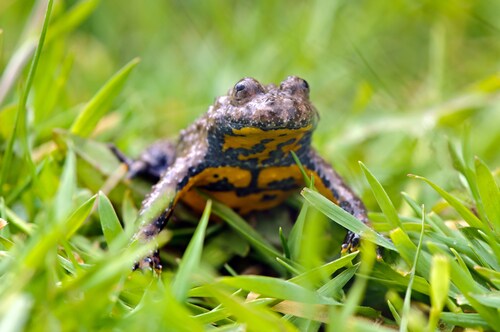 According to van Oosten et al. (2015) the UniProt protein database contains over 5,000 bioactive peptides derived from animal venoms and toxins, rendering this a significant resource for drug discovery and development.1 Because over 85% of these bioactive peptides contain disulfide bridges, the van Oosten team used this feature to create a high-resolution mass filtering approach.
To do this, they created an experimental liquid chromatography–mass spectrometry (LC-MS) workflow (LTQ-Orbitrap Velos mass spectrometer, Thermo Scientific) for unknown peptides. They applied the protocol to peptides found in the granular skin gland secretions of the piebald odorous frog (Odorrana schmackeri) and the yellow-bellied toad (Bombina variegata). Using converted raw data from Xcalibur software (Thermo Scientific), the team created an in-house MATLAB script to calculate nominal mass defect (NMD) and normalized isotopic shift (NIS). They plotted these along with monoisotopic mass to create a 3-D map capable of distinguishing sulfur-containing peptides, since these cysteine-rich peptides localize distinctly when mapped. From this, they were able to select candidate peptides (low NMD, high NIS) for targeted de novo sequencing and structural elucidation.
The researchers first applied the approach to O. schmackeri, a well-characterized species with 27 peptides listed in UniProt, including 25 with a known C-terminal disulfide bond (the "Rana-box"). They report 182 spectral matches resulting in 35 protein identifications. The majority of the 104 total peptides had NMD values between 0.45 and 0.50 and NIS values between 0.60 and 0.70, confirming a high number of disulfide bonds. The team selected one novel peptide (NMD 0.49, NIS 0.63) for structure elucidation and ultimately determined that its amino acid sequence (TSRCYVGYRHK[I/L]VCS) was highly similar to the known antimicrobial peptide Odorranain-T2-HN1, with only position 10 histidine residue substitution (in place of arginine). This suggests that the novel peptide identified here is also likely to demonstrate antimicrobial activity.
The team also applied the workflow to B. variegata, which contains a large family of antimicrobial peptides (bombinins and bombinin-like peptides) but only a few peptides known to contain disulfide bonds (kininogen 1 and 2, prokineticin, and BSTI). They selected several candidate peptides from the constructed 3-D map and performed targeted MS2 analysis, resulting in the sequencing (sometimes partial) of 15 cysteine-containing peptides, including several highly similar to peptides associated with kininogen 1 and 2, prokineticin, and BSTI. They also report the identification of several novel structures.
Overall, van Oosten et al. offer this high-resolution Orbitrap plus MATLAB mass mapping workflow as an efficient tool for detecting peptides containing disulfide bridges. Since this characteristic indicates bioactivity and therefore potential pharmacologic relevance, the approach validated here has applications for drug discovery and drug development using bioactive peptides derived from animal venoms and toxins.

Reference

1. van Oosten, L.N., et al. (2015) "Screening method for the discovery of potential bioactive cysteine-containing peptides using 3D mass mapping," Journal of the American Society for Mass Spectrometry, 26(12) (pp. 2039–2050), doi:10.1007/s13361-015-1282-z.