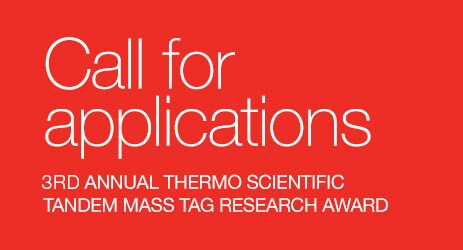 Thermo Fisher Scientific recently announced the call for its Third Annual TMT Research Award. With the deadline for submissions open until January 31, 2017, there is still time to complete the online application process.
The award aims to support new or novice tandem mass tag (TMT) users with funds of up to $10,000 USD for reagent purchases. Up to 50% of each award is eligible for buying TMT 10-plex reagents. Applicants need to fill in an online form, describing the project proposal and potential impact, for adjudication by a panel of judges. The panel, comprising judges from Thermo Fisher Scientific and Proteome Sciences LLC, will judge each application according to scientific merit, use of TMT reagents and the clarity of the approach. Award winners should be notified towards the end of March 2017, with presentations made during a Thermo Fisher Scientific−sponsored event at the American Society for Mass Spectrometry (ASMS) annual conference in Indianapolis, Indiana on June 4–8, 2017.
So what is tandem mass tagging, and when should you use it in your experimental design?
TMT reagents enable multiplexed protein quantitation for mass spectrometric proteomic analysis. In a relatively simple workflow, it is possible to label multiple peptides within a single preparation with isobaric tags. Unique TMT reporter ions masses elute together within a single LC-MS/MS (liquid chromatography-tandem mass spectrometry) run. From comparing reporter ion intensities, researchers can measure changes in relative abundance.
There are a variety of TMT products available, ranging from duplex through 6-plex to 10-plex capabilities. The range also includes iodoTMT with cysteine-reactive mass tags, and aminoxyTMT, which provides carbonyl-reactive mass tags. IodoTMT has been used to investigate redox effects in cells and hypoxia [reviewed here; video available here], whereas aminoxyTMT is used to characterize protein carbonylation. A clear advantage of TMT technology is the ability to multiplex quantitation and identification within samples. Another feature is that researchers no longer have to rely on metabolic labeling tools such as SILAC so that the approach is applicable to tagging proteins already in existence.
For full details on how to apply, restrictions and past winners, check out the web page and brochure for further information.
Further Reading
Primary paper reviews on Accelerating Proteomics: https://www.thermofisher.com/blog/proteomics/?s=TMT
Planet Orbitrap for user notes: http://planetorbitrap.com/tmt#.WAPrreArKUk
An overview of tech plus further reading links: https://www.thermofisher.com/blog/proteomics/why-tmt-multiplexing-for-protein-quantitation/
Video coverage of the award: https://www.youtube.com/results?search_query=TMT+award+thermo
TMT in action for characterizing the breast cancer cell proteome: review https://www.thermofisher.com/blog/proteomics/tmt-multiplexed-protein-quantitation-in-action-characterizing-breast-cancer-proteomes/ and webinar http://view6.workcast.net/register?pak=9635235670412211