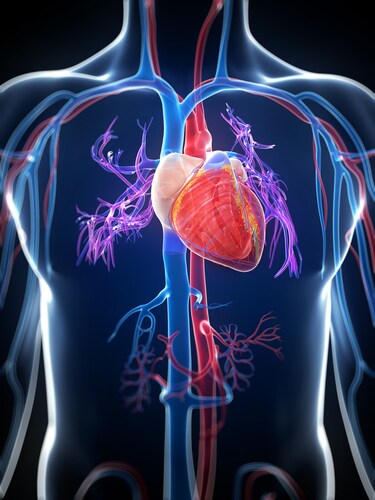 Protein isoforms, which present variations in amino acid sequence, can influence biological function. Frequently, isoforms differentially express in disease states. Cardiac myofilament proteins regulate the contractility of striated muscle in the heart and exist in several isoforms, including some that express in response to pathology. Unfortunately, low expression levels and high sequence homology have previously limited the comprehensive exploration of myofilament protein isoforms.
Recently, Kooij et al. applied mass spectrometry (MS) to identify cardiac myofilament protein isoforms and sub-isoforms using unique tryptic peptides to distinguish particular species.1 Ultimately, the ability to identify protein isoforms in connection with specific cardiac disease states could result in the development of diagnostic tools and therapeutic targets.
The research team used three workflows that included two enrichment techniques: Triton X-1002 and IN Sequence.3 For the first workflow, they fractionated the proteins of IN Sequence samples via reversed-phase high-performance liquid chromatography (RP-HPLC) using a Savant SpeedVac Concentrator (Thermo Scientific) followed by in-solution trypsin digestion. For the second and third workflows, the team subjected both enriched sample types to SDS-PAGE followed by in-gel trypsin digestion. All three protocols ended with MS detection using an LTQ Orbitrap hybrid ion trap-Orbitrap mass spectrometer (Thermo Scientific) and multiple data searches.
Kooij et al. found that this three-pronged approach yielded a greater number of unique protein identifications than any single method. They used the clustering tool CD-HIT to whittle the original 2,570 unique identifications to 1,665. Of these, they observed that 461 were common between two or three workflows, while 187 were common to all three. They employed UniProt subcellular location annotation to these identifications, resulting in the confirmation of 102 myofilament proteins. Literature searching and manual validation yielded the unambiguous identification of the core myofilament sub-proteome: 10 cardiac myofilament proteins and 17 cardiac myofilament-associated proteins. Among these, the scientists confirmed 39 isoforms and sub-isoforms.
The researchers highlighted some of these, including myosin, which presented the highest number of isoforms in this study. This enzyme contributes to ATP hydrolysis, a necessary component of the energy production that enables muscles to contract. The team identified seven heavy-chain and five light-chain isoforms of this protein. They also observed alpha-TM, the predominant low molecular weight isoform of tropomyosin and, for the first time, its sub-isoforms α-TM1-1 (skeletal muscle) and α-TM1-2 (smooth muscle). They also highlighted their identification of alpha-actinin isoforms 1, 2 and 4; α-actinin isoform 3's unique tryptic peptide was absent, most likely due to high sequence homology. Other less characterized yet notable identifications included synaptopondin 2, which localizes the zone of myofibril in striated and heart muscle cells, and the transglutaminases, which are known regulators of myocardial growth, fibrosis and wound healing after myocardial infarction.
The research team posits that the data presented in this study could serve as a benchmark for emerging protocols and technologies as clinicians move toward the development of targeted assays for the diagnosis of cardiac pathologies. They emphasize that observing isoform distribution changes in response to pathological conditions could also assist in the identification of therapeutic targets.
References
1. Kooij, V., et al. (2014, August) "Identification of Cardiac Myofilament Protein Isoforms Using Multiple Mass Spectrometry Based Approaches," Proteomics – Clinical Applications, 8 (pp. 578–89), doi: 10.1002/prca.201400039.
2. Solaro, R.J., et al. (1971) "Purification of Cardiac Myofibrils with Triton X-100," Biochimica et Biophysica Acta, 245 (pp. 259–62).
3. Neverova, I., et al. (2002) "Application of reversed phase high performance liquid chromatography for subproteomic analysis of cardiac muscle," Proteomics, 2 (pp. 22–31).
Post Author: Melissa J. Mayer. Melissa is a freelance writer who specializes in science journalism. She possesses passion for and experience in the fields of proteomics, cellular/molecular biology, microbiology, biochemistry, and immunology. Melissa is also bilingual (Spanish) and holds a teaching certificate with a biology endorsement.