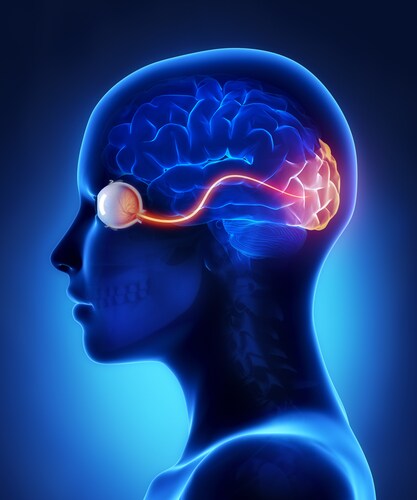 The optic nerve is made up of retinal ganglion cell axons from the inner cell layer of the retina. It begins at the optic nerve head, at the optic disk region of the retina, and transfers visual information to the brain. The retrobulbar component of the optic nerve is a myelinated extension of the forebrain. The most common disease affecting the retrobulbar optic nerve is retrobulbar optic neuritis. Myopia, characterized by ocular globe elongation, is the most common disease affecting the sclera of the eye. The sclera is the connective tissue that forms the outer coat of the eye. Zhang et al. (2016) performed a proteomic analysis of healthy retrobulbar optic nerve and sclera.1
The investigators used five human donor eyes from adults (four males and one female) aged 51–76, with no history of eye disease or previous eye surgery. Enucleation occurred between three hours and seven hours after death in all subjects, and tissue freezing occurred within the subsequent 24 hours to 36 hours for all subjects. The researchers used a cryogenic grinder to process the sclera and the optic nerves and to prepare solutions for analysis.
Zhang et al. first separated the proteins of each using sodium dodecyl sulfate polyacrylamide gel electrophoresis (SDS-PAGE), which they stained with Coomassie blue before running liquid chromatography–tandem mass spectrometry (LC-MS/MS) experiments on an EASY-Spray source coupled to an Orbitrap Elite mass spectrometer (both Thermo Scientific). The investigators processed raw MS data in batches using the i3D Enterprise Informatics Service, X! Tandem and Open Mass Sgpectrometry Search Algorithm (OMSSA) search engines, as well as the UniProt sequence database.
They identified 8,729 unique peptides, resulting in 2,639 protein clusters and 2,711 non-redundant proteins in the retrobulbar optic nerve. In the sclera they identified 11,225 unique peptides, resulting in 1,758 protein clusters and 1,945 non-redundant proteins. Further, they identified 21 unambiguous alternative splicing protein isoforms in the optic nerve and 10 unambiguous protein isoforms in the sclera.
The optic nerve proteome included astrocytic proteins (glial fibrillary acidic protein, aquaporin-4), oligodendrocytic proteins (laminin, proteolipid protein, fibronectin) and myelin proteins (myelin basic protein, myelin-associated glycoprotein). Collagens were the predominant proteins found in sclera, with 18 detected. These included types I, II, III, IV, VI, VIII, X, XII, XIV, XV, XVI, and XVIII. They also found a number of non-collagenous glycoproteins, such as fibronectin, vitronectin, and laminin; extracellular matrix proteins thrombospondins 1, 2, 3 and 4; dystroglycan; and transgelins 1, 2 and 3. The sclera also contained a number of non-collagenous extracellular matrix proteins, matrix metalloproteinases (3 and 14, and matrix metalloproteinase inhibitors 1, 2 and 3) and interns, as well as six protein kinases.
By cataloging the proteins in normal retrobulbar optic nerves and sclera, Zhang et al. have provided a useful resource for future studies in eye health and disease. Their findings have contributed to the Human Eye Proteome Project.
Reference
1. Zhang, P., et al. (2016) "The proteome of normal human retrobulbar optic nerve and sclera," Proteomics, 16(19) (pp. 2592–2596), doi: 10.1002/pmic.201600229.

Post Author: Miriam Pollak. Miriam a Nutritionist specialising in women's health and works from her Bondi Beach clinic. She is also currently completing her Masters by research in nutrition.
Prior to this, Miriam majored in neuroscience as an undergraduate before completing a post graduate degree in science communication. She spent over a decade working in science communication and medical research, collaborating with some of the best oncologists and researchers in Australia and the U.S.