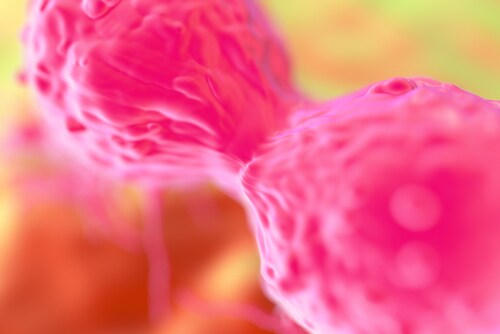 Once mutated, cancer has many ways to propagate invasion and spread around the body. One of these involves cleaving off the extracellular domains of transmembrane proteins through the action of proteases like cathepsins. Sobotič et al. (2015) recently described work to characterize the role of cysteine cathepsins in this process.1 In addition, the researchers also examined the pathways regulated by the released ectodomains and their importance to carcinogenesis.
As part of the disease, cancer cells drive processes such as angiogenesis, tissue invasion, cell adhesion and extracellular matrix (ECM) degradation, which are permissive to tumor growth and metastatic spread. Part of this is achieved by extracellular shedding, where proteases cleave active proteins from the surface of cells. Although researchers know that cathepsins are involved in cancer progression, they understand less about their role in releasing cell-surface proteins.
Sobotič et al. used a mass spectrometry–based proteomics workflow to profile the substrates affected by cathepsin action in various cancer cell lines. In addition, the team also identified the proteins involved and defined their activity. The researchers further explored the role of cathepsins using both a mouse knockout model and proteases derived from tumor-associated macrophages.
Using the breast cancer cell line MDA-MB-231 for initial studies, the researchers treated the cultures with recombinant cathepsins B, S and L derived from yeast or Escherichia coli production. They gathered the conditioned medium from the culture plates, then examined the fluid by liquid chromatography-tandem mass spectrometry (LC-MS/MS) using an EASY-nLC II system coupled with an Orbitrap LTQ Velos mass spectrometer (both Thermo Scientific). Sobotič et al. found that cathepsins S and L stimulated extracellular shedding, with more than a third of the proteins identified as being cell-surface membrane proteins. These proteins included cell adhesion molecules and receptors. The researchers abolished this response using the cysteine cathepsin inhibitor E-64. The team obtained the same results when repeated in other cancer cell lines, including melanoma and glioblastoma, in addition to identifying other ECM proteins.
The researchers repeated the studies using cathepsins produced by macrophages, which is the usual source for these extracellular proteases in cancer. They co-cultured MDA-MB-231 cells with U937 cells previously differentiated into macrophages. Sobotič et al. confirmed release of cathepsins into the co-culture using enzyme activity assays. Next, they examined cell-surface protein shedding into the co-culture medium using Western immunoblotting. With U937 co-culture, the breast cancer cells released ALCAM, neuropilin 1 and plexin B2 into the medium, and this effect could be diminished by E-64.
In vivo studies using knockout mice (cathepsins S and B) showed that pancreatic tumor preparations from cathepsin S-deficient animals shed fewer of the cathepsin-sensitive proteins found from the in vitro studies. The cancer phenotype of this knockout model features lower invasive potential in pancreatic tumors, possibly associated with altered cathepsin secretion. Studying this theory using migration assays, the researchers found that treating the breast cancer cells with recombinant cathepsins stimulated an invasive phenotype in vitro.
As a final step, Sobotič et al. looked at intracellular signaling pathways affected by cathepsin-induced extracelllar shedding, focusing on intracellular Ras GTPases. Using ELISA-based chemiluminescence assays, they found a decrease in K-Ras and H-Ras activity.
In summarizing the study, Sobotič et al. are confident the results show involvement of cysteine cathepsins in propagating tumorigenesis both in vitro and in vivo, and that the enzyme is involved in ectodomain shedding by cleaving extracellular proteins. Furthermore, the work shows that these cleaved proteins are active in cancer cell progression and act on intracellular signaling through alteration of the Ras-associated pathway.
Reference
1. Sobotič, B. et al. (2015) "Proteomic identification of cysteine cathepsin substrates shed from the surface of cancer cells," Molecular and Cellular Proteomics, 14 (pp. 2213-28)
Post Author: Amanda Maxwell. Mixed media artist; blogger and social media communicator; clinical scientist and writer. A digital space explorer, engaging readers by translating complex theories and subjects creatively into everyday language.