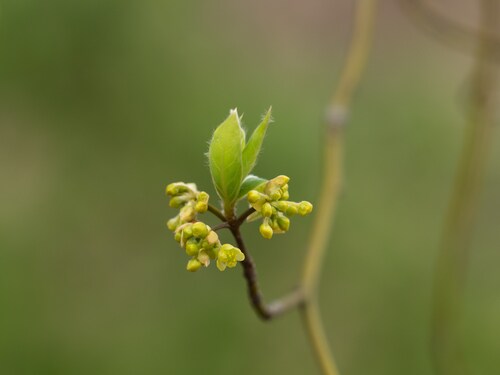 Lindera reflexa Hemsl. is a medicinal plant associated with Chinese medicine and prescribed to treat gastritis and peptic ulcers. Sun et al. (2016) recently applied ultra-high-performance liquid chromatography (UHPLC) linear trap quadrupole (LTQ) Orbitrap mass spectrometry (MS) to examine fragmentation behaviors for 12 known Lindera reflexa root compounds, as well as to identify unknown compounds associated with the medicinal plant.1
To do this, the team used an optimized Dionex UltiMate 3000 UHPLC system coupled with an LTQ Orbitrap XL Hybrid Ion Trap-Orbitrap mass spectrometer (both Thermo Scientific). The researchers recorded and processed the data using Xcalibur and Mass Frontier software revisions 3.0 and 7.0, respectively (both Thermo Scientific). The 12 reference compounds comprised five types: stilbene, flavonoid, alkaloid, pyranone I and pyranone II.
Table 1. Reference compounds
Type

Compounds

stilbene

pinosylvin

3-methoxy-5-hydroxy-trans-stilbene

β,β'-pinosylvin diglucoside

reflexanbene I

reflexanbene II

flavonoid

alkaloid

norbracteoline

laetanine

launobine

pyranone I

pyranone II
The research team was able to detect the 12 standards, construct fragmentation pathways and confirm the structures of their derivatives, using Mass Frontier software to assist in this undertaking. Combining the MS(n) data, accurate mass measurements and retention times, they were able to identify (unambiguously or tentatively) 42 total constituent compounds in the Lindera reflexa root sample. These included eight stilbenes, eight flavonoids, nine alkaloids, 10 pyranone I compounds, and seven pyranone II compounds. Of these, they report 24 to be novel identifications.
Table 2. Novel compounds
Type

Potential novel compounds
(retention time, measured mass, molecular formula)

stilbene

10.83 min, 535.21545, C27H35O11

20.98 min, 349.21570, C24H29O2

24.97 min, 349.21622, C24H29O2

flavonoid

16.83 min, 283.09644, C17H15O4

17.61 min, 281.08081, C17H13O4

21.51 min, 393.20514, C25H29O4

26.32 min, 393.20575, C25H29O4

26.80 min, 407.22098, C26H31O

26.94 min, 393.20599, C25H29O4

pyranone I

18.26 min, 439.24759, C27H35O5

20.33 min, 397.23657, C25H33O4

20.53 min, 397.23709, C25H33O4

22.42 min, 439.24765, C27H35O5

23.27 min, 439.24768, C27H35O5

23.68 min, 439.24771, C27H35O5

24.14 min, 303.12268, C17H19O5

26.02 min, 439.24762, C27H35O5

26.45 min, 439.24762, C27H35O5

pyranone II

21.91 min, 351.19540, C23H27O3

23.47 min, 351.19516, C23H27O3

23.93 min, 351.19547, C23H27O3

24.40 min, 351.19537, C23H27O3

25.27 min, 351.19531, C23H27O3

27.08 min, 351.19540, C23H27O3
Sun et al. report their UHPLC-LTQ-Orbitrap-MS protocol to be both efficient and sensitive, as well as a first application of this method to identify the chemical constituents of Lindera reflexa root. They indicate that the data here is useful for better understanding the medicinal plant, for further studies examining pharmacokinetics and metabolomics, and for quality control during the production of this Chinese medicine.

Reference
1. Sun, X., et al. (2016) "Characterization and identification of the chemical constituents in the root of Lindera reflexa Hemsl. using ultra-high performance liquid chromatography coupled with linear trap quadrupole orbitrap mass spectrometry," Journal of Pharmaceutical and Biomedical Analysis, 126 (pp. 34–47).