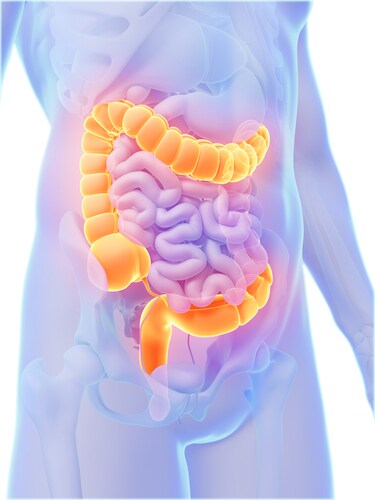 Colorectal cancer generally develops over the course of many years as a result of a series of homeostatic disruptions involving critical signal transduction pathways, including TGFß, BMP, ACVR2, Wnt and Notch. Now that researchers understand the general molecular mechanisms that propel colorectal cancer, the next challenge is to screen the dynamic tumor proteome to unravel the relationships between specific gene products and newly synthesized proteins. By focusing on proteome-level changes linked to single-driver mutations, researchers hope to identify specific alterations that directly impact tumorigenesis.
Recently, Ballikaya et al. turned to activin receptor type II (ACVR2), a tumor suppressor whose inactivation has been demonstrated to drive the formation of colorectal tumors.1 The team sought to correlate a specific ACVR2 mutation with alterations in the tumor proteome. They used Recombinase Mediated Cassette Exchange to create an ACVR2-deficient, microsatellite, unstable colon cancer cell line (HCT116) that uses doxycycline to regulate ACVR2 expression. They biotin-tagged the proteins generated by this cell line using a Click-iT chemistry technique. After tryptic on-bead digestion, the researchers subjected the labeled proteins to ultra-performance liquid chromatography–mass spectrometry (UPLC-MS) on an LTQ Orbitrap XL hybrid ion trap-Orbitrap mass spectrometer (Thermo Scientific).
The researchers identified a set of 513 proteins that constituted the de novo proteome. Although the majority of these (480 proteins, or 94%) occurred in both doxycycline-treated and untreated cells and were therefore unimpacted by ACVR2 expression status, a portion of the proteins (25 proteins, or 5%) demonstrated ACVR2 dependency. Most of this subset (20 proteins, or 80%) occurred only in doxycycline-treated, ACVR2-proficient cells; some of these have been previously linked to tumorigenesis (see Table 1). The remainder of the subset (5 proteins, or 20%) occurred in cells that lacked ACVR2 expression.
Table 1. Ten doxycycline-treated, ACVR2-proficient proteins having prior association with tumor development
| | | | | |
| --- | --- | --- | --- | --- |
| calumenin | protein DEK | LETM1 and EF-hand domain-containing protein 1 | insulin-like growth factor-binding protein 2 | eukaryotic translation initiation factor 4B |
| antigen KI-67 | DNA replication licensing factor MCM2 | nucleosome assembly protein 1-like 1 | RNA-binding protein 8A | protein S100-A11 |
Ballikaya et al. note that these identifications highlight the general functionality of the method. But, even more exciting, the study reveals the strategy's potential applicability to other genes or modulators. Indeed, the research team believes their technique could successfully analyze any gene of interest and reveal its impact on the cellular de novo proteome. The researchers also indicate that their method could undergo further refinement to include membrane-bound proteins and other proteins that do not easily solubilize, as well as incorporate existing quantitative techniques.
Overall, the team combined two technologies to create a novel and versatile method capable of detecting tumor-relevant proteomic changes in newly synthesized proteins. They hope that enhanced knowledge of cellular protein networks will open the door to new diagnostic and therapeutic paradigms that tailor colorectal cancer treatment to individual patients.
Reference
1 Ballikaya, S., et al. (2014, September) "De Novo Proteome Analysis of Genetically Modified Tumor Cells By A Click-Chemistry Approach," Molecular & Cellular Proteomics (pii: mcpM113.036665) (e-pub ahead of print).
Post Author: Melissa J. Mayer. Melissa is a freelance writer who specializes in science journalism. She possesses passion for and experience in the fields of proteomics, cellular/molecular biology, microbiology, biochemistry, and immunology. Melissa is also bilingual (Spanish) and holds a teaching certificate with a biology endorsement.