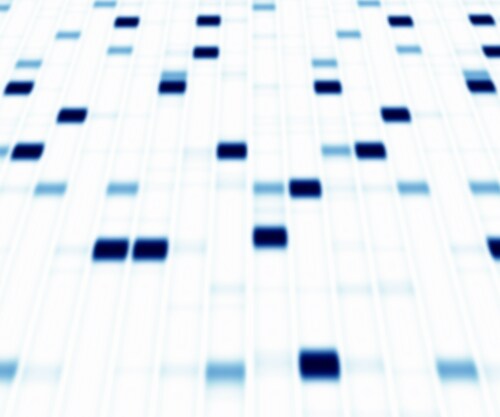 Knowing a protein is present is meaningless unless its functionality is determined. And this is exactly what Wang et al. (2015) provide in a new workflow that explores mass spectrometry (MS)-based protein identification in conjunction with enzymatic activity assay.1
More than 20% of human genes encode for enzymes, which are key players in cell activity. Although current proteomics can identify proteins within an experimental study, it cannot show whether changes in abundance also affect enzymatic activity. Wang et al. devised and validated an experimental workflow that uses 2-dimensional gel electrophoresis (2-DE) followed by isoelectric focusing (IEF) on a protein elution plate (PEP) assembly to prepare samples for both enzymatic and proteomic analysis. They then tested out the method using a clinically relevant in vivo study of hearing loss to examine the protective effects of drug treatment on mice cochleae.
The researchers took two-month-old CBA mice (males and females, n = 20 total), treating half the group with zonisamide prior to exposure to 96 dB, 8–16 Hz octave band noise exposure. They treated a control group with physiological saline. The team harvested the cochleae after 24 hours, then prepared protein extracts, ensuring that they protected enzymatic activity at all stages.
Alongside sample collection, the research team also optimized and validated the 2-DE/PEP workflow for creating the protein arrays. They used protein preparations from Escherichia coli and bovine liver lysates to examine the various stages. Using standard methodology, the researchers separated the E. coli proteins using 2-DE, then transferred them from the gels to the PEP apparatus, confirming completion of the process by the absence of non-specific protein staining in the donor gel. They also examined protein transfer from the PEP plates to the enzyme and MS assays, and found good recoveries. Wang et al. conducted final validation studies for the workflow using bovine liver preparations, since it is naturally high in enzymatic activity.
After validation, the team used the workflow to characterize proteomic changes and the effect on enzymatic activity using the mice cochlear proteins following exposure to noise. They used 2-DE to prepare the samples, followed by PEP, which separates proteins according to IEF and molecular weight. Following the elution step, they transferred the separated proteins to a master plate to carry out the enzyme activity assays. Based on existing evidence, Wang et al. concentrated on characterizing oxidative enzyme activities, with specific focus on NADH and NADPH-dependent oxidases, already implicated in hearing loss. Choosing the samples showing the most significant oxidase activity to identify the proteins responsible, the team analyzed them by liquid chromatography and tandem mass spectrometry (LC-MS/MS) using a Q Exactive mass spectrometer (Thermo Scientific).
The workflow showed that treatment with zonisamide was associated with a shift in redox enzymatic activity following stimulation using the 96 dB sound blast, especially among enzymes with low molecular weights. Wang et al. took the five samples showing the most significant enzyme activity, separated the proteins using 10% Bis-Tris gel electrophoresis and digested the bands with trypsin prior to LC-MS/MS analysis. They tentatively identified the following enzymes from this analysis: glyceralde-3-phosphate dehydrogenase, malate dehydrogenase, and L-lactate dehydrogenase.
Wang et al., in describing the workflow as giving an overview of the complete "protein functional landscape," conclude that 2-DE followed by PEP shows how the whole mouse cochlear proteome is affected by drug treatment. Furthermore, it also shows how treatment affects protein function, including which isoform is involved. They suggest that this workflow will be of benefit in drug research particularly since it will give global oversight on the impact of experimental treatments on not only the proteome, but also the whole enzyme functional environment.
Reference
1. Wang, D.L. et al. (2015) "Identification of multiple metabolic enzymes from mice cochleae tissue using a novel functional proteomics technology," PLoSONE 10(3):e0121826. doi: 10.1371/journal.pone.0121826
Post Author: Amanda Maxwell. Mixed media artist; blogger and social media communicator; clinical scientist and writer. A digital space explorer, engaging readers by translating complex theories and subjects creatively into everyday language.