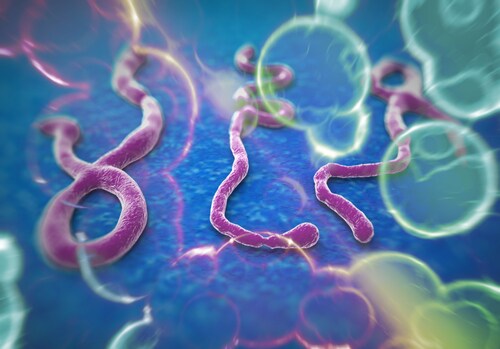 As Ebola virus vaccines continue to speed through development,1 the need for treatment remains a priority for those still in danger of contracting the disease. The fastest way to get treatment to infected patients involves utilization of drugs already approved by the Food and Drug Administration (FDA), because such use saves time in screening for safety in humans and observing possible side effects. After identifying drugs with potential, researchers can bypass some initial testing and then begin testing the efficiency of these drugs on the virus. Throughout their recent paper, Kouznetsova et al. state their goals of publishing findings, allowing other groups to help validate those findings, and subsequently obtaining treatment for those infected with the Ebola virus.2
The research team developed a high-throughput screening (HTS) method for identifying FDA-approved drugs with the potential to block Ebola virus entry. The team utilized a previously developed Ebola virus-like particle (VLP) entry assay that employed a beta-lactamase reporter enzyme, which exhibits a specific fluorescence intensity when activated.3 The beta-lactamase enzyme was fused to the Ebola matrix protein VP40 (creating BlaVP40) and this fusion was transfected into 293 T-cells, along with the Ebola glycoprotein (GP). The expression of these two products in cells results in VLPs containing BlaVP40 inside the lipid envelope where Ebola GP is anchored. VLPs collected from the supernatant were introduced into HeLa cells for the HTS assay.
Although the original assay required large amounts of VLPs and only six wells for each compound and cell combination, the group was able to identify steps that conserved VLPs and allowed for more samples to be tested at a time. They developed a 1,536-well assay as a truly robust system of identifying approved drugs that could inhibit VLP entry, growing HeLa cells in the 1,536-well plate (3-μl media with 750 cells/well) and then adding compounds to the cells. As a final step, they added a VLP solution to the plates. By measuring dual intensity fluorescence and beta-lactamase activity, the researchers could quantify the amount of VLPs entering the cells.
The results showed 53 approved compounds exhibiting the potential to inhibit VLP entry. The group next observed how the compounds acted in a living system. They identified six categories for grouping the compounds: microtubule inhibitors, estrogen receptor modulators, antihistamines and anticholinergics, antipsychotic/antidepressant drugs, pump/channel blockers, and anticancer and antibiotic drugs. The most promising compound was the microtubule inhibitor Vinblastine (IC50 = 48 nM). Vinblastine is used in chemotherapy regimens for the treatment of a variety of cancers. Microtubule inhibitors have previously been identified as barriers to Ebola virus entry.4 Also in previous Ebola virus entry studies, researchers have observed estrogen receptor modulators inhibiting infection,5 further demonstrating the high predictive potential of the HTS VLP system.
Although the research needs to be further verified using live virus in a BSL-4 laboratory, Kouznetsova published quickly so that such research could be performed. Furthermore, this group has developed a robust assay that can be safely performed in a BSL-2 setting, therefore saving time and effort for the few BSL-4 laboratories around the world.
References
1. World Health Organization. (2015, January 12) "Ebola vaccines, therapies, and diagnostics."
2. Kouznetsova, J., et al. (2014, December) "Identification of 53 compounds that block Ebola virus-like particle entry via a repurposing screen of approved drugs," Emerging Microbes & Infections, 3 (p. e84), doi: 10.1038/emi.2014.88.
3. Tscherne, D.M., et al. (2010) "An enzymatic virus-like particle assay for sensitive detection of virus entry," Journal of Virological Methods, 163 (pp. 336–43).
4. Dube, D., et al. (2010) "Cell adhesion-dependent membrane trafficking of a binding partner for the ebolavirus glycoprotein is a determinant of viral entry," Proceedings of the National Academy of Sciences of the United States of America, 107 (pp. 16637–42).
5. Johansen, L., et al. (2013) "FDA-approved selective estrogen receptor modulators inhibit Ebola virus infection," Science Translational Medicine, 5 (p. 190ra79).
Post Author: Rebecca Easley.