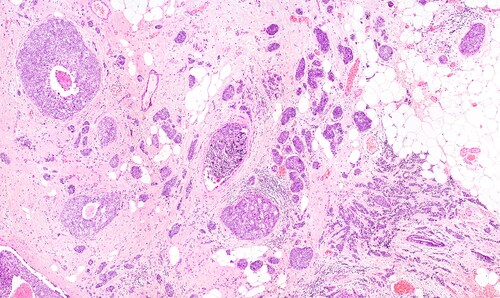 From a label-free deep dive into the triple-negative breast cancer (TNBC) proteome, Lawrence et al. (2015) have uncovered some potential targets for therapeutic investigation.1 Using 24 cancer samples (cell lines and biopsy tissues), the research team combined a proteomics analysis approach with drug sensitivity testing and integration of genomics data. The methodology and resulting data allowed the team to explore the biology of this devastating disease.
TNBC—so named since tumor cells responsible are negative for the three common receptors in breast cancer, estrogen, progesterone and human epidermal growth factor receptor-2—affects less than 20% of patients with the disease. It is however, a classification with poor prognosis and few targeted treatment options. Lawrence and coworkers decided to perform a deep proteome profiling of representative tissues and cell lines to characterize TNBC subtypes and hence discover potential therapeutic targets.
The researchers used 20 breast cancer cell lines in addition to tissue from four patients with confirmed TNBC (metastatic stages II and III) for their work. Of the cell lines, 16 were classified as TNBC; the team selected 3 receptor-positive cell lines as control, plus a non-malignant breast cell line for further comparison. They cultured the cells under standard conditions before lysing the cells and digesting the proteins using Lys-C or trypsin according to standard methodology. They digested protein extracts from the breast cancer tissues in a similar way.
Next, the researchers analyzed the peptides by liquid chromatography–tandem mass spectrometry (LC-MS/MS), using and Easy-nLC 1000 system coupled with a Q Exactive hybrid quadruple-Orbitrap mass spectrometer (both Thermo Scientific). The data gathered from 450 peptide fractions resulted in 20 million high-resolution spectra. From these, they identified 289,819 peptide sequences from 12,775 proteins encoded by 11,466 genes.
Lawrence et al. found that using an iBAQ (intensity-based absolute quantitation) approach to quantifying the number of copies per cell gave protein and peptide quantitation data similar to that obtained in an earlier CPTAC (Clinical Proteomic Tumor Analysis Consortium) study.2 They have deposited the data from this research into an open access web resource to allow other researchers to explore the findings.
When Lawrence et al. examined the data using hierarchical clustering analysis to achieve molecular subtyping, they found that the experimental materials grouped into four clusters. Closer examination showed that those with similar genetic mutations clustered together. For example, tumor cells in cluster 1 showed mutation in PIK3CA and BCR, whereas those in clusters 3 and 4 contained TP53 aberrations.
At the proteomic level, they found that the subtype clustering showed significant protein over- or under-expression per cluster. This affected proteins specific to oncogenesis, including those involved in pathways for metastasis and invasion, for example. When the research team examined cancer-signaling factors, however, they found no clear consensus that characterized the clusters but did note that a few factors showed promise for therapeutic investigation. Further characterization at the isoform level showed mostly no differences, but the researchers did note exceptions, including the p65 subunit of NF-kBNF-kB, CD47 and PTKZ.
Finally, the research team examined drug sensitivity profiles, screening the 16 cell lines with increasing concentrations of chemotherapeutics. Using this data, they compared results in conjunction with proteomic markers of drug sensitivity or resistance to further characterize the individual tumor cells. They also looked for correlations between the in vitro screening results and associated genetic mutations or protein abundances, assessing how well cell sensitivity corresponded to pathways or factors targeted by the drug itself. In the cell lines studied, Lawrence et al. found that sensitivity to a drug correlated strongly with cellular expression of the target itself.
Overall, the team considers the use of "large-scale '-omics' data" valid for extending research into TNBC, noting that the extensive characterization of the genome and proteome undertaken in the study will benefit therapeutic targeting for patients and the development of new, more specific and effective drugs.
References
1. Lawrence, R.T., et al., (2015) "The proteomic landscape of triple-negative breast cancer," Cell Reports, 11 (pp. 1–15), doi: 10.1016/j.celrep.2015.03.050.
2. Zhang, B., et al., (2014) "Proteogenomic characterization of human colon and rectal cancer," Nature, 513 (pp. 382–87), doi: 10.1038/nature13438.
Post Author: Amanda Maxwell. Mixed media artist; blogger and social media communicator; clinical scientist and writer. A digital space explorer, engaging readers by translating complex theories and subjects creatively into everyday language.