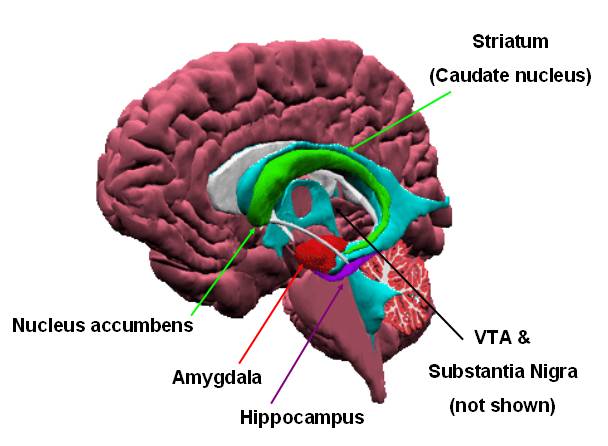 Over 350 million people worldwide suffer from depression; it is the leading cause of disability.1 Chronic stress is a known risk factor in the pathogenesis of depression. Previous research suggests that the nucleus accumbens, which performs a central role in the reward circuit of the brain, plays an important function therein.2,3
Because the nucleus accumbens is the brain's center of reward and learning and because depression is marked by anhedonia, or an inability to experience pleasure, there is some evidence to suggest that a dysfunction in this reward pathway contributes to the pathophysiology of depression. The way in which the nucleus accumbens is implicated, however, remains unclear.
Some studies have shown that animals reared in enriched environments are less likely to display depression and addiction-like behaviors compared to animals raised in isolated environments. The implication is that environmental factors influence the propensity of an individual toward or away from a depressive phenotype.4
Fan et al. (2013) have taken a proteomics approach to elucidate the changes occurring in phosphorylation within the nucleus accumbens in response to enriched and isolated conditions in rats. Previous studies have implicated a variety of signaling pathway proteins in stress-induced depressive disorder in humans and animal models, supporting the hypothesis that phosphorylated proteins are involved in the pathogenesis of stress-induced depression.5
Four groups of rats were used in the study; two groups were placed in isolated conditions and two groups were placed in enriched environments. One group of each of the isolated and enriched rats was exposed to stress, with the remaining two groups acting as controls. The researchers used an LTQ Orbitrap (Thermo Scientific), in combination with MALDI TOF/TOF [time-of-flight] mass spectrometry, for protein analysis of the mouse brain samples.
Fan et al. were able to demonstrate that stress specifically increases phosphorylation of proteins in pathways relating to energy production: glycolysis, gluconeogenesis, tricarboxylic acid cycle and phosphocreatine biosynthesis. Additionally, rats in an enriched environment had a higher creatine kinase B activity, with the stressed and enriched rats having the highest activity of all groups.
Creatine kinase B plays an important role in energy homeostasis through the phosphocreatine–creatine kinase system. Creatine kinase B has been previously shown to rescue ATP depletion, aggregate formation and impaired proteasome activity. A rapid change in energy-producing proteins is potentially an indicator of rapid changes in energy demand of the nucleus accumbens. Therefore, it is plausible that the increased creatine kinase B activity of the enriched rats could contribute to a protective depression phenotype. It is possible that animals placed in an enriched environment actually derive antidepressant-like benefits.
A follow-up question could be proposed to address whether phosphorylation can be reversed by placing isolated subjects in enrichment conditions. Future studies may lead to improved therapeutics specifically targeting phosphorylation within the nucleus accumbens.
References
1. World Health Organization. (2012) "Depression."
2. Mahr, I., et al. (2013) "Stress, Serotonin, and Hippocampal Neurogenesis in Relation to Depression and Antidepressant Effects," Neuroscience and Behavioural Reviews, pii: S0149-7634(13)00297-2, doi: 10.1016/j.neubiorev.2013.11.009 [Epub ahead of print].
3. Shirayama, Y., and Chaki, S. (2006) "Neurochemistry of the Nucleus Accumbens and its Relevance to Depression and Antidepressant Action in Rodents," Current Neuropharmacology, 4(4) (pp. 277–91).
4. Green, T.A., et al. (2010) "Environmental enrichment produces a behavioral phenotype mediated by low cyclic adenosine monophosphate response element binding (CREB) activity in the nucleus accumbens," Biological Psychiatry, 67(1) (pp. 28–35), doi: 10.1016/j.biopsych.2009.06.022.
5. Fan, X., et al. (2013) "Differential Phosphoproteome Regulation of Nucleus Accumbens in Environmentally Enriched and Isolated Rats in Response to Acute Stress," PLoS ONE, 8(11) (e79893), doi: 10.1371/journal.pone.0079893.
Post Author: Miriam Pollak. Miriam specialised in neuroscience as an undergraduate but traded in lab work for a post graduate degree in science communication.
She has since had a career that has spanned science communication, science education and communications management.
However, Miriam has found her bliss balancing her love of writing and disseminating medical research with managing a multimillion dollar research budget for a childhood cancer charity in Australia.