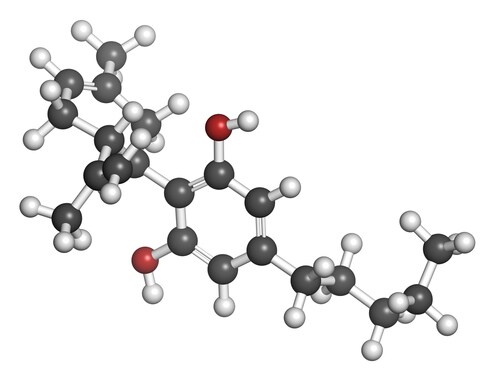 According to researchers Lebel, Waldon and Furtos (2015), designer drugs pose significant challenges for drug monitoring applications. Because each drug analog contains minor structural modifications that render them absent from spectral libraries, these compounds essentially become moving targets. This means that the targeted methods commonly relied upon for drug screening—like liquid chromatography mass spectrometry (LC-MS) and gas chromatography mass spectrometry (GC-MS)—can't properly identify novel drug analogs.
In this study, the team presents a targeted-untargeted high-resolution tandem MS protocol for the identification of 24 cannabinoid-like compounds, including 20 synthetic analogs and 4 natural species.1 To do this, they optimized an LTQ Orbitrap XL platform tied to an Accela HPLC system (both Thermo Scientific) to identify all analytes in a single run using accurate mass, retention time and fragmentation pattern (MS2) to differentiate compounds. They used Xcalibur software (revision 2.1, Thermo Scientific) for data processing.
The researchers applied their method to 11 seized samples from non-registered sources. These included 4 incense sticks, 2 cigarettes, 3 herbal samples, 1 cannabis sample and 1 tablet. Of these, 7 were positive for cannabinoids. The team reports the presence of two synthetic cannabinoids in a single incense stick; since these meet the standard for controlled substances, the product was withdrawn from distribution as a result of this finding.
The samples used in this study had been previously analyzed in a government laboratory, using validated thin-layer chromatography and GC-MS for the cannabis plant and HPLC-photo diode array (HPLC-PDA) detection and GC-MS for the other samples. Lebel, Waldon and Furtos report that their method agreed with the results compiled using the routine methods and produced neither false positive nor false negatives. They further indicate that their approach yielded these results in eight minutes—six times more rapidly than GC-MS and four times more rapidly than HPLC-PDA. They also report enhanced sensitivity and selectivity as a product of the high mass resolution power of the Orbitrap mass spectrometer platform coupled with the Accela chromatography system.
Due to the ongoing synthesis of novel cannabinoid analogs in the designer drug market, untargeted screening like the method presented here could overcome a significant barrier to the identification of illegal substances and adulterated products. The team posits that their approach could be a valuable tool for diverse drug monitoring applications.
Reference
1. Lebel, P., Waldron, K.C., and Furtos, A. (2015) "Rapid determination of 24 synthetic and natural cannabinoids for LC–MS-MS screening in natural products and drug inspection applications," Spectroscopy.