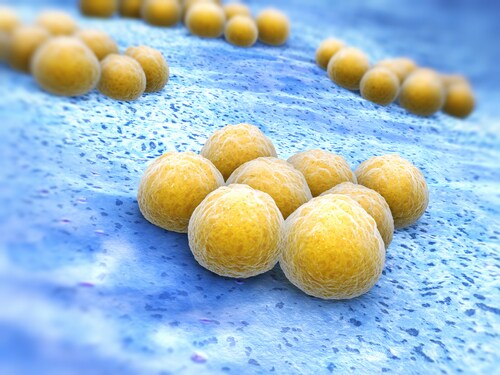 At least 500 microbe species inhabit the mammalian gastrointestinal tract, including the Gram-positive Lactobacillus plantarum and Staphylococcus aureus. The first species is a commensal organism that imparts protective functions like enhanced barrier mechanisms, production of antimicrobial material, and intestinal immune response regulation; the latter is an opportunistic pathogen that may cause infections resulting in sepsis, pneumonia, endocarditis or other life-threatening conditions.
Peptidoglycans (PGNs) make up approximately 90% of Gram-positive cell walls. These polymers consist of repeating disaccharides ß-(1,4)-linked N-acetylglucosamine and N-acetylmuramic acid, connected via peptide bridges. For S. aureus, the third amino acid in this bridge is L-lysine; for Lactobacillus species, it is a meso-diaminopimelic acid (meso-DAP). During cell division or via PGN-binding protein (PGN-BP)-mediated bacteriolysis, PGNs release from the cell wall into the intestinal lumen.
These proteins and their interactions with the gastrointestinal tract are poorly understood. Recently, Baik et al. used a 7-Tesla Finnigan LTQ FT mass spectrometer (Thermo Scientific) to characterize PGN-BPs from L. plantarum and S. aureus.1 To do this, the team purified PGNs from the bacteria (Lp.PGN and Sa.PGN from L. plantarum and S. aureus, respectively) and used them to isolate PGN-BPs from mouse gastrointestinal tract lysates. They utilized the LTQ FT instrument to identify the proteins visualized via sodium dodecyl sulfate–polyacrylamide gel electrophoresis (SDS-PAGE). Finally, the researchers used the Protein Analysis Through Evolutionary Relationships (PANTHER) classification system to unravel the biological significance of the identified PGN-BPs.
The research team found differential recognition of Lp.PGN and Sa.PGN by the nucleotide-binding oligomerization domain (NOD) proteins, which serve as receptors for intracellular pattern recognition. This indicates that the purified PGNs conserved their biological activity and that host cells recognize them differently. Using a reporter gene assay with NOD-expressing HEK293 cells, the team found that Lp.PGN increased NOD1- and NOD2-dependent NF-ĸB activation, while Sa.PGN prompted only NOD2-dependent NF-ĸB activation.
On the gel, the scientists noted a greater number of protein bands for Lp.PGN-BPs as compared to Sa.PGN-BPs; mass analysis identified 18 Lp.PGN-BPs and 6 Sa.PGN-BPs. This suggests that the PGNs of commensal bacteria interact more with the gastrointestinal tract than do opportunistic pathogens, which makes sense considering that maternal-derived beneficial bacteria—including Lactobacillus—colonize the neonate gut from birth, giving rise to frequent bacteria–host interaction.
Using PANTHER for gene ontology analysis, the researchers assigned the PGN-BPs to functional categories, delineating major categories of molecular function (catalytic activity, binding, and structural molecular activity), biological process (metabolic and cellular) and cellular components (cell parts and organelles). For all of these, the team noted higher abundance in Lp.PGN-BPs as compared to Sa.PGN-BPs.
The authors highlight that the PGNs from the two investigated types of bacteria bound to proteins associated with microbial adhesion, mucosal integrity and the cytoskeleton. For L. plantarum, preferential binding occurred with proteins linked to gene expression and antimicrobial function, as well as to chaperones; for S. aureus, the team noted selective interaction with proteins associated with pathogen adherence and invasion.
Baik et al. observe that subtle structural alterations in PGNs could prompt differences in biological function and bacteria–host cell interactions. One such difference is the disaccharide modification in the peptide bridge—an example being that, for Sa.PGN, O-acetylation occurs only on the N-acetylmuramic acid; however, for Lp.PGN it also occurs on N-acetylglucosamine. Further, a commonly recognized PGN-BP—PGRP—binds more strongly to PGNs containing DAP (e.g., Lactobacillus PGNs) and less strongly to PGNs containing lysine (e.g., S. aureus PGNs). In the present study, a pull-down assay using an anti-mouse PGRP (Pglyrp1) antibody confirmed strong interaction with Lp.PGN and weak interaction with Sa.PGN.
Overall, the research team found that, although some binding proteins interact with the PGNs of both L. plantarum and S. aureus, these interactions are differential in nature. Because the interplay between host cells and the commensal and pathogenic bacteria colonizing the gastrointestinal tract contributes to gut homeostasis and host immunity, the team recommends further functional studies of the PGN-BPs identified in this study.

Reference
1. Baik, J.E., et al. (2015) "Differential profiles of gastrointestinal proteins interacting with peptidoglycans from Lactobacillus plantarum and Staphylococcus aureus," Molecular Immunology, 65 (pp. 77–85).
Post Author: Melissa J. Mayer. Melissa is a freelance writer who specializes in science journalism. She possesses passion for and experience in the fields of proteomics, cellular/molecular biology, microbiology, biochemistry, and immunology. Melissa is also bilingual (Spanish) and holds a teaching certificate with a biology endorsement.