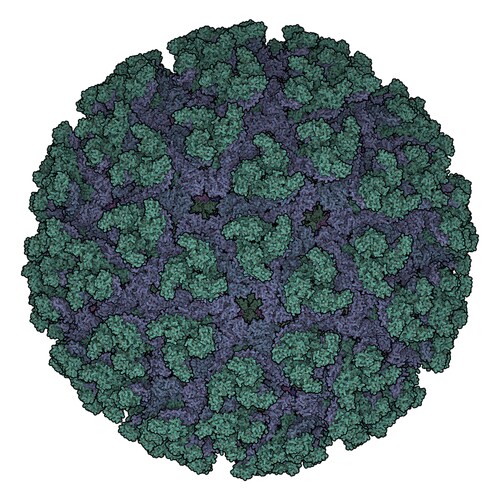 Chikungunya virus (CHIKV) is an alphavirus, meaning it belongs to the Togaviridae family of viruses. Alphaviruses are able to infect vertebrates as well as invertebrates. Transmission between individuals and between species occurs largely through mosquitoes.1
The virus causes a fever, rash, headache and severe joint pain in its host. Treatment options rely on addressing and alleviating symptoms, which typically dissipate within a few weeks. Until recently, CHIKV was limited to Africa, Asia and the Indian subcontinent; however, outbreaks in Europe and the Americas have occurred in the last few decades.2 In 2005 during an outbreak of the virus on Reunion Island, doctors documented central nervous system (CNS) involvement, a symptom with the potential to do great harm in vulnerable populations such as the elderly and young children. Fraisier and colleagues have now utilized two proteomic approaches (2D-DIGE and iTRAQ) followed by protein identification by mass spectrometry (MS) to suggest potential new biomarkers and targets for antiviral therapies to treat CHIKV and alleviate the reliance on vector control.3
The investigators infected 12 nine-day-old female mice. Half of the mice were sacrificed on day 2, whilst still asymptomatic (but the first day that the virus was detectible in the brain) and the other half on day 3, when symptoms began to appear. Using 2D-DIGE analysis, the team identified a total of 22 unique proteins altered by CHIKV infection. Following that discovery, they identified differentially expressed proteins with iTRAQ labeling using nano-scale capillary liquid chromatography–tandem mass spectrometry (nanoLC-MS/MS). The nanoLC was coupled to a nano-spray source of a linear ion trap Orbitrap mass spectrometer (Thermo Scientific). The team's analysis generated 177 unique host proteins that were differentially expressed in brain tissue samples after CHIKV infection. Further to this, the researchers discovered that mice sacrificed at the earlier time-point largely showed a downregulation of proteins that were differentially expressed, which were subsequently upregulated upon presentation of clinical symptoms (i.e., in the day-3 sacrificed mice). The authors suggest that these alterations in the protein expression patterns likely reflect the host response in combination with the virus hijacking the host proteins for viral multiplication and, additionally, may impact viral pathogenicity and neurological symptoms.
Using in silico analysis, Fraisier et al. demonstrated that the main functions and processes altered during the course of CHIKV infection in the mouse brains were integrin signaling and cytoskeleton dynamics, endosome recycling machinery and synapse function, regulation of host gene expression, and modulation of the ubiquitin proteasome pathway. In some instances, current drugs on the market already target affected components of the same pathways predicted to be affected by CHIKV. For example, several proteins that were differentially expressed during the time course of CHIKV infection in the mouse brain were related to endocytic machinery, including Rabaptin-5 (RABEP1), RAB35, N-ethylmaleimide–sensitive fusion protein (NSF), GRIP-associated protein 1 (GRIPAP1 or GRASP1), and annexin-A2 (ANXA2). Available drugs currently licensed for human use target the Rab GTPase network and provide a lowest-hanging-fruit opportunity to be tested for efficacy against CHIKV infections. Additionally, the researchers have identified potential novel therapeutic strategies targeting deubiquitinating enzymes (DUBs), which were downregulated and upregulated as a consequence of infection with CHIKV.
By revealing the protein expression profiles correlated with the onset of clinical symptoms, this study paves the way for further evaluation of potential CHIKV markers and the development of new therapeutic targets to prevent CHIKV neurological infection.
References
1. Burt, F.J., et al. (2012) "Chikungunya: A re-emerging virus," Lancet, 379(9816) (pp. 662–71).
2. World Health Organization. (2014) "Chikungunya," available at http://www.who.int/mediacentre/factsheets/fs327/en/.
3. Fraisier, C., et al. (2014) "Kinetic Analysis of Mouse Brain Proteome Alterations Following Chikungunya Virus Infection before and after Appearance of Clinical Symptoms," PLOS ONE, 9(3) (e91397), doi: 10.1371/journal.pone.0091397.
Post Author: Miriam Pollak. Miriam specialised in neuroscience as an undergraduate but traded in lab work for a post graduate degree in science communication.
She has since had a career that has spanned science communication, science education and communications management.
However, Miriam has found her bliss balancing her love of writing and disseminating medical research with managing a multimillion dollar research budget for a childhood cancer charity in Australia.