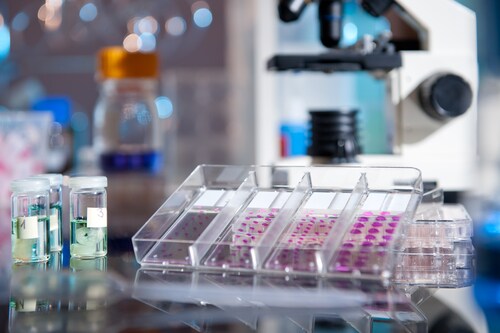 Next-generation sequencing offers researchers and clinicians unparalleled access to the human genome, allowing them to comb genetic alterations implicated in human disease for the purpose of enhancing both scientific understanding and treatment options. However, the workflow associated with next-generation sequencing can be both labor intensive and expensive. Further, when it is applied to DNA samples of inferior quality, next-generation sequencing produces sample waste and low confidence in research results. This is especially true for collaborative and transnational projects.
DNA qualification enables researchers to assess the quantity of double strand DNA (dsDNA) available in a sample as well as its suitability for downstream applications. This saves both time and money and is of particular importance when using partially degraded DNA derived from formalin-fixed paraffin-embedded (FFPE) tissues, since the processing and storage protocols already impact DNA yield and quality.
For this reason, Simbolo et al. (2013) compared three methods for DNA qualification, focusing on the development of a workflow that meets criteria for rapidity, efficiency and cost-effectiveness when using histopathological samples.1 The methods were UV spectrophotometry with a NanoDrop spectrophotometer (Thermo Scientific), dsDNA-specific fluorimetry with a Qubit fluorometer (Thermo Scientific), and quantitative polymerase chain reaction (qPCR).
To compare the methods, the research team used 17 DNA samples: 6 fresh-frozen tissues, 6 FFPE tissues, 3 cell lines and 2 commercial preparations. They measured both intra- and inter-operator variability using two operators over 10 measurements and report neither to be significant.
When comparing the methods, the authors found that NanoDrop spectrophotometer measurements were consistent only with qPCR measurements for high molecular weight DNA derived from fresh-frozen samples and cell lines where total DNA and dsDNA tend to be equivalent or nearly so. In the case of FFPE samples with partially degraded DNA, they report that the NanoDrop spectrophotometer overestimated DNA measurements, while the results obtained from the Qubit fluorometer were both replicable and consistent with qPCR results. However, the researchers note that Qubit technology alone offers no data regarding sample purity, while NanoDrop technology enables research teams to detect and remove impurities before constructing libraries to avoid sample waste.
Based on the findings here, Simbolo et al. recommend a standardized protocol that combines the two instruments to sequentially assess histopathological samples: qualification focused on contaminant detection with a NanoDrop spectrophotometer followed by quantification of dsDNA via Qubit fluorometer. Together, these instruments are a rapid, cost-effective means of qualifying DNA for the purpose of enhancing the accuracy of research results and minimizing sample waste. The authors offer this method as an alternative to qPCR, which may be an impractical choice for many laboratories and research scenarios.
Reference
1. Simbolo, M., et al. (2013) "DNA qualification workflow for next generation sequencing of histopathological samples," PLoS ONE 8(6): e62692. doi:10.1371/journal.pone.0062692.
Post Author: Melissa J. Mayer. Melissa is a freelance writer who specializes in science journalism. She possesses passion for and experience in the fields of proteomics, cellular/molecular biology, microbiology, biochemistry, and immunology. Melissa is also bilingual (Spanish) and holds a teaching certificate with a biology endorsement.