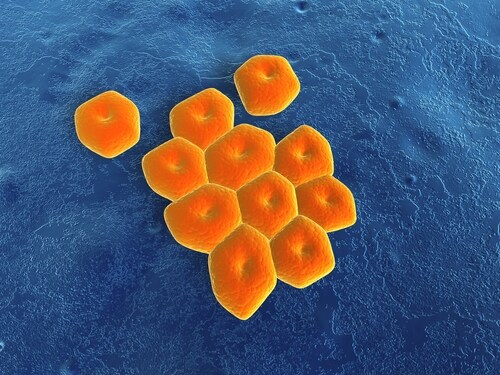 In bacteria, the phosphorylation of serine, threonine and tyrosine (Ser/Thr/Tyr) residues is a post-translational modification (PTM) with biological significance, notably for cellular regulation and signaling. One hospital-derived pathogen that carries this PTM, Acinetobacter baumannii, is particularly virulent due to its multidrug resistance and hardy nature.
Because previous mass spectrometry (MS)-based studies revealed links between Ser/Thr/Tyr phosphorylation and bacterial processes, Soares et al. turned to MS with phosphopeptide enrichment to explore this PTM in A. baumannii.1 They compared the phosphoproteomes of a reference strain (ATCC 17978) and a highly invasive, multidrug-resistant clone (clinical strain AbH12O-A2).
To do this, the researchers grew each strain in a medium containing minimal glucose, harvesting colonies during the stationary phase. They pelleted, lysed and disrupted the cell membranes in the presence of Halt phosphatase inhibitor cocktail (134 μL, Thermo Scientific) to preserve the phosphorylation states. Then, they solubilized and extracted the crude protein (9 mg) for in-solution digestion and phosphopeptide enrichment.2 For enrichment, they used a 1-mL Resource S column (flow rate of 1 mL/min) with elution performed over 32 minutes, resulting in 16 separated fractions of 2 mL each. They pooled these into 9 fractions based upon peptide concentration (determined by UV trace @ 214 nm) and applied TiO2 chromatography followed by 5-μL sample injection into an EasyLC nano-HPLC coupled to an LTQ Orbitrap XL hybrid ion trap-Orbitrap mass spectrometer (Thermo Scientific).
Soares et al. used an established nano-LC-MS/MS protocol3 that relied upon a 15-cm nano-HPLC column packed with reverse-phase 3-μm C18 spheres (flow rate of 500 nL/min) and peptide elution over a 90-minute linear gradient (flow rate 200 nL/min), followed by electrospray ionization. The MS scan range was m/z 300–2000 at 60,000 resolution. They fragmented the five most intense ions using collision-induced dissociation in the linear ion trap. The team processed the data and searched the peaks against the Andromeda database (mass tolerance 6 ppm and 0.5 Da for precursor ions and fragment ions, 1% false discovery rate). They allowed peptide localization that met probability criteria of ≥75%, based upon the PTM score. They used PSORTb v3.0 and Uniprot to establish subcellular localization and functional classification.
Overall, the team detected 210 unique phosphorylation sites that collapsed into 91 unique phosphorylation events (on 77 proteins) after manual validation of the spectra for high confidence. Of these events, they detected 11 (on 7 proteins) that were unique to the reference strain, 43 (on 36 proteins) that were unique to the clone, and 37 (on 34 proteins) that occurred in both strains. For the reference strain, the distribution was 68.9% on serine, 24.1% on threonine and 5.2% on tyrosine. For the clone, the distribution was 70.8% on serine, 25.2% on threonine and 3.8% on tyrosine. Soares et al. report that the multidrug-resistant clinical clone demonstrated twice as many phosphorylation events as the reference strain.
The vast majority (60) of the detected phosphoproteins were localized in the cytoplasm. The team established 13 functional protein classifications: protein biosynthesis, membrane, ATP binding, GTP binding, DNA binding, glycolysis/gluconeogenesis, kinase, oxidoreductase, transferase, TCA cycle, acyl-CoA and "other." They posit likely relationships between Ser/Thr/Tyr phosphorylation and the regulation of cell division, protein biosynthesis, glycolysis/gluconeogenesis, pathogenesis, virulence, stress response and drug resistance.
References
1. Soares, N., et al. (2014, May) "Ser/Thr/Tyr phosphoproteome characterization of Acinetobacter baumannii: Comparison between a reference strain and a highly invasive multidrug-resistant clinical isolate," Journal of Proteomics, 102 (pp. 113–24), doi: 10.1016/j.jprot.2014.03.009.
2. Borchert, N., et al. (2012) "Phosphoproteome of Pristionchus pacificus provides insights into architecture of signaling networks in nematode models," Molecular and Cellular Proteomics, 11 (pp. 1631–9).
3. Koch, A., et al. (2011) "Mitotic substrates of the kinase aurora with roles in chromatin regulation identified through quantitative phosphoproteomics of fission yeast," Science Signaling, 4(179) (p. rs6).
Post Author: Melissa J. Mayer. Melissa is a freelance writer who specializes in science journalism. She possesses passion for and experience in the fields of proteomics, cellular/molecular biology, microbiology, biochemistry, and immunology. Melissa is also bilingual (Spanish) and holds a teaching certificate with a biology endorsement.