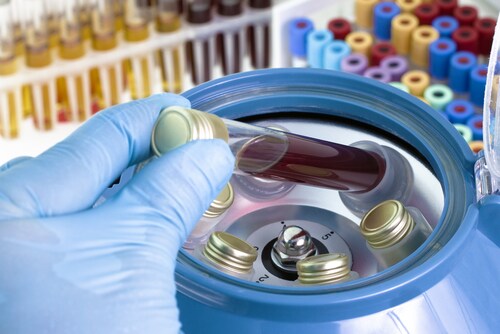 Cheow et al. (2015) describe a process for dual enrichment of plasma glycoproteins in both extracellular vesicles and free circulation.1 The method, which employs prolonged ultracentrifugation (PUC) in combination with electrostatic repulsion–hydrophilic interaction chromatography (ERLIC), characterizes the free and vesicular glycoproteome as a valuable source of biomarkers for liquid biopsy.
Glycoproteins, resulting from a common post-translational modification, are valuable circulating biomarkers for disease and physiology. However, low abundance hampers research into identifying and quantifying them for clinical liquid biopsy diagnostics. Scientists have turned to mass spectrometric methods for assaying them; however, low ionization efficiency and a complex matrix of high-abundance blood proteins means that enrichment is necessary to avoid interference. Unfortunately, sample pretreatments frequently deplete glycoproteins. Furthermore, since they also exist within extracellular vesicles such as exosomes, an ideal enrichment strategy should encompass both free and contained molecules so that total abundance is measured.
Cheow et al. present a two-step strategy that enriches extracellular vesicles in addition to purifying glycoprotein content prior to analysis using liquid chromatography–tandem mass spectrometry (LC-MS/MS). Using blood collected from 20 heart disease patients (before they underwent coronary artery bypass surgery), the researchers validated and optimized a workflow for glycoprotein enrichment in human plasma. First, they subjected pooled samples to PUC, preparing a supernatant at 200 xg for 30 minutes, followed by 2,000 xg for 30 minutes and then 12,000 xg for 60 minutes. They then took the resulting yellow suspension and centrifuged it for 18 hours at 200,000 xg, and resuspended the pellet in phosphate-buffered saline before a final 18 hours at 200,000 xg.
Following resuspension, the team digested the enriched preparation using trypsin before separating the peptides using a standard ERLIC fractionation and then PNGase F deglycosylation. They then completed a proteomic analysis using a Dionex UltiMate 3000 RSLCnano HPLC system coupled with an LTQ-FT Ultra linear ion trap mass spectrometer (both Thermo Scientific). To examine false positive N-linked glycosylation, the team omitted the PNGase F step to identify falsely assigned glycopeptides, which they then excluded from further characterization.
Prior to proteomic analysis, Cheow et al. verified the enrichment process, using cryo-electron microscopy to confirm the presence of vesicles within the enriched samples. The team also validated the sample preparation using Western immunoblotting for vesicular protein markers, identifying the ERLIC fractions containing the enriched products.
Comparing results obtained from LC-MS/MS, Cheow et al. found that PUC-ERLIC increased N-glycosylated protein abundance four times more than standard ultracentrifugation-ERLIC sample preparation. Of the glycoproteins identified, analysis using the DAVID tool showed that 99 out of 127 (78%) were secretory in origin. Furthermore, PUC-ERLIC enrichment resulted in a higher percentage of unique glycoproteins identified (62%) by LC-MS/MS, compared to PUC (24%) or ERLIC (34%) preparation in isolation.
As a further validation, the researchers compared the results obtained with those reported in previous studies looking at glycoprotemics in extracellular vesicles, finding agreement with proteins identified. They also identified LYVE 1, a biomarker for myocardial remodeling, in patient samples using the PUC-ERLIC enrichment method.
In conclusion, Cheow et al. are confident that the PUC-ERLIC workflow is suitable for dual enrichment of glycoproteins in plasma and extracellular vesicles in preparation for glycoproteome characterization.
Reference
1. Cheow, E.S.H., et al. (2015) "Simultaneous enrichment of plasma soluble and extracellular vesicular glycoproteins using prolonged ultracentrifugation-ERLIC approach," Molecular and Cellular Proteomics, 14 (pp. 1657–1671). doi: 10.1074/mcp.O114.046391.
Post Author: Amanda Maxwell. Mixed media artist; blogger and social media communicator; clinical scientist and writer. A digital space explorer, engaging readers by translating complex theories and subjects creatively into everyday language.