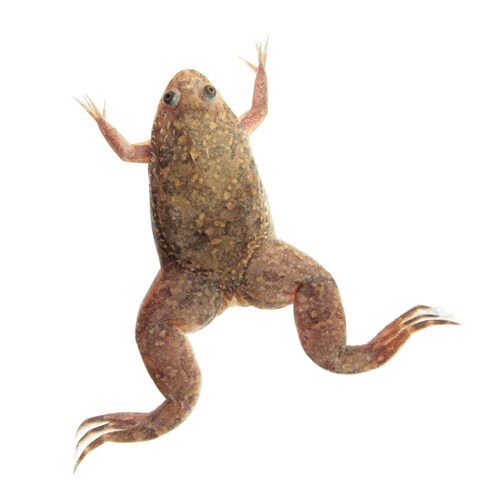 Development of Xenopus laevis embryos is well understood at the molecular level, such that correlation of gene expression and transcription with key stages is richly characterized. Information on dynamic protein expression, however, is not so available in this model organism. Sun et al. (2014) used isobaric tags for relative and absolute quantitation (iTRAQ) isotopic labeling to follow changes in protein abundance from the fertilized egg up to stage 22 (neurula embryo) of X. laevis development.1 Using the DAVID bioinformatics resource, they assigned a gene identity to proteins discovered, then determined their biological processes, molecular functions and associations with cellular components.
Sun and colleagues examined embryo duplicates at stages 1 (single cell), 5, 8 and 11, repeating the experimental procedure with embryos at stages 1, 5, 13 and 22. Their final experimental design comprised pooled tissue homogenates from four embryos at stages 1, 8, 13 and 22 to increase analytical sample size. The authors note that at stage 1, their experimental design deals with single-celled zygotes.
The research team homogenized the embryos, then digested them with trypsin before incubation with the iTRAQ 8-plex labeling solutions. Using strong cation-exchange chromatography, they separated the digests into 20 fractions before analysis using ultra-performance liquid chromatography–tandem mass spectrometry (UPLC-MS/MS) on a Q Exactive hybrid quadrupole-Orbitrap mass spectrometer (Thermo Scientific). The team examined and quantified the data using Proteome Discoverer software (version 1.3, Thermo Scientific), having first converted the raw data files to a Mascot software generic format. They searched data against the X. laevis database held on the Xenbase website.
The UPLC-MS/MS analysis returned a total of 36,997 peptides, from which the researchers identified 3,403 ± 157 proteins per experiment. Comparison of results from single embryos showed no significant differences in protein expression among individuals.
Following deep proteome analysis, Sun et al. grouped the identified proteins into six clusters, according to abundance changes seen during the different stages of development. Proteins allocated to cluster 0 showing no significant upregulation or downregulation throughout the experimental period. Cluster 6 comprised the largest set of proteins (351).
With further analysis, the scientists found that dynamic changes in the clusters reflected changes in gene expression, marking key milestone events in the development of the X. laevis embryos. They also found discrepancies between mRNA and protein expression, signaling the occurrence of post-transcriptional regulation. Sun et al. confirmed the MS/MS data using Western immunoblotting for proteins such as XCdc6, an apoptosis regulator and replication licensing factor.
The researchers found that proteins in clusters 1 and 2 reduced immediately following fertilization, whereas those in clusters 3, 4 and 6 rose with embryo development. Proteins in cluster 5 peaked in abundance at embryonic stage 8 (midblastula transition, or MBT), then declined with maturation. Cluster 4 and 6 proteins increased in abundance following MBT.
With expression levels of approximately 5,000 genes already noted for X. laevis during early development, Sun and colleagues are confident that their data, which quantify expression of almost 4,000 proteins, represent comprehensive coverage of the proteome of this experimental organism.
Reference
1. Sun, L., et al. (2014) "Quantitative proteomics of Xenopus laevis embryos: Expression kinetics of nearly 4,000 proteins during early development," Nature Scientific Reports, 4 (article 4365), doi: 10.1038/srep04365.
Post Author: Amanda Maxwell. Mixed media artist; blogger and social media communicator; clinical scientist and writer.
A digital space explorer, engaging readers by translating complex theories and subjects creatively into everyday language.