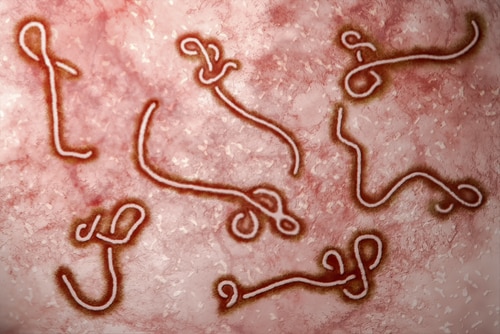 Structure and conformation are key factors in determining protein functionality; this also holds true for Ebola virus (EBOV) products. Chakraborty et al. (2015a) assessed EBOV protein secondary conformation for clues to functionality and pathogenicity.1 They compared their findings with those for the Marburg virus, another member of the Filoviridae family, to characterize so-called viral "hotspots" that are both necessary for infectivity and carry the potential for therapeutic targets.
Although the EBOV genome is small, the seven proteins it encodes pack a lethal pathogenic punch, rapidly overcoming host immune systems, with little hope of recovery. Analysis of antibody and immune system responses and interactions in survivors of historical EBOV outbreaks provides useful information for researchers hoping to develop strong therapeutic candidates and vaccines.
Chakraborty and colleagues examined the secondary structure of EBOV proteins, focusing specifically on alpha helices to elucidate unique features that characterize critical sites where the EBOV proteins interact with host proteins. These viral hotspots interact with cell surface proteins to allow viral colonization, in addition to eliciting host responses such as neutralizing antibodies and other immune regulators.
Using an open-source software tool, PAGAL, created by the team,2 the researchers assessed proteins pulled from the Worldwide Protein Data Bank (PDB) under the search term "Ebola". It is worth noting that this search strategy identifies not only EBOV proteins but also host proteins found in association with the virus.
After compiling entries from the PDB query, Chakraborty et al. first searched for single chain proteins and then used the DSSP (Dictionary of Secondary Structure of Proteins), a program used to determine secondary structure, to locate alpha helices, finding 758 among the EBOV viral and associated proteins. They then used PAGAL to calculate scores according to hydrophobic moments, as well as positive and negative residues, within these structures.
The research team ignored proteins with ten or fewer residues, as well as those either without charge or possessing only a single charged residue. They then rendered the resulting proteins with PyMOL, using ClustalW for sequence alignment before mapping the structures to show how interactions with neutralizing antibodies could occur.
From their data, the scientists found a number of alpha helix hotspots exhibiting interaction with host proteins and antibodies. For example, an alpha helix on EBOV protein GP2 shows a large hydrophobic moment within its structure at the point of interaction with a neutralizing antibody, KZ52, obtained from a human survivor (1995, Kikwit). A highly negative alpha helix within EBOV protein VP24 complexes with karyopherin alpha nuclear transporter (KPNA), which might partly explain how this viral protein incapacitates the human immune response to infection. An alpha helix within EBOV protein VP35 contains a high proportion of positively charged residues; this area demonstrates the ability to bind antifiloviral compounds that inhibit viral polymerase activity.
In conclusion, the authors remark that by examining and characterizing these viral hotspots according to their unique features, it should be possible to direct the development of novel anti-viral peptides suitable for clinical use. They suggest that their method offers a rational way to speed up drug development for the current devastating EBOV outbreak.
References
1. Chakraborty, S., et al. (2015a, January) "Characterizing alpha helical properties of Ebola viral proteins as potential targets for inhibition of alpha-helix mediated protein-protein interactions [version 3]," F1000Research, 3 (p. 251), doi: 10.12688/f1000research.5573.3.
2. Chakraborty, S., et al. (2015b, February) "PAGAL – Properties and corresponding graphics of alpha helical structures in proteins [version 3]," F1000Research, 3 (p. 206), doi: 10.12688/f1000research.4952.3.
Further Resources
Post Author: Amanda Maxwell. Mixed media artist; blogger and social media communicator; clinical scientist and writer.
A digital space explorer, engaging readers by translating complex theories and subjects creatively into everyday language.