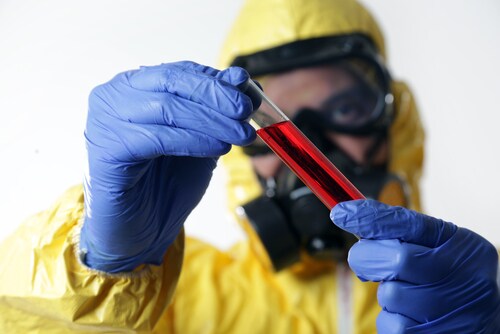 Ebola virus (EBOV) belongs to the genus Ebolavirus along with four other viruses: Sudan virus (SUDV), Tai Forest virus (TAFV), Reston virus (RESTV), and Bundibugyo virus (BDBV). Since the first identified outbreak of Ebola hemorrhagic fever (EHF) occurred in 1976, 21 human outbreaks have taken place in sub-Saharan Africa. Until recently, the largest outbreak occurred in the Gulu district of Uganda in 2000–2001 and was caused by SUDV; the outbreak produced over 400 cases, with more than 50% resulting in death.1 Researchers from the Centers for Disease Control and Prevention (CDC), along with a group from Emory University School of Medicine, have now performed experiments from serum collected during this outbreak to find biomarkers that correlate with clinical outcomes.
Previous studies of the samples from the Gulu outbreak showed higher-than-normal levels of aspartate aminotransferase (AST), D-dimer, blood urea nitrogen (BUN) and creatinine.2 Additionally, the research showed reduced levels of calcium and albumin in fatal EHF cases. The CDC and Emory scientists observed potential biomarkers involved in immune function, coagulation and endothelial activation in human serum samples derived from the outbreak.1 The study involved 86 EHF patient samples; 36 of the patients had more than two samples collected after the onset of symptoms. Fifty-six of the patients were women, as compared to only 30 men, most likely due to their roles as caretakers in the community. Although 12% of the patients involved in the study were HIV-positive, this subgroup still maintained a 50% survival rate.
Using a Luminex-based assay, the researcher team observed levels of 25 different cytokines and chemokines. Six of these proteins were elevated in patients with fatal outcomes. Although some of these proteins had been previously identified, the team found a number of unique characteristics related to patient mortality. For patients who did not survive, interleukin 8 (IL-8) and GRO-alpha were elevated but only in the late stages of EHF infection. Interestingly, elevated soluble CD40 ligand (sCD40L) showed significant correlation with survival of EHF. In their discussion, the researchers theorized that because sCD40L is produced by activated platelets, an increase in sCD40L could indicate that the host's body is working to repair endothelium using activated platelets. This theory is supported by previous findings showing elevated nitric oxide levels associated with death in EHF patients; nitric oxide is known to inhibit platelet activation in the host.
The researchers next observed the levels of biomarkers involved in inflammation and coagulopathy during SUDV infection. During infection a possibility of acute-phase response exists, which involves an assortment of host responses, including increases in C-reactive protein (CRP), increases in serum amyloid antigen (SAA) and decreases in albumin. Researchers found that in EHF, CRP levels remained unaltered, but they saw an increase in ferritin and thrombomodulin levels in patients who had hemorrhagic manifestations or fatal outcomes. The group also observed that ferritin elevates during inflammation, something associated with more serious cases of both dengue and Crimean Congo hemorrhagic fever. They then hypothesized that measuring ferritin levels could be a good way to assess EHF severity, allowing doctors to treat these patients with more intensive care. Finally, McElroy et al. identified thrombomodulin as an important biomarker because it appears to do more than simply inhibit coagulation. Thrombomodulin has a C-type lectin domain with the ability to maintain endothelial integrity. The EBOV glycoprotein binds to C-type lectins, potentially preventing thrombomodulin from maintaining the endothelium and, subsequently, leading to hemorrhage or death.
References
1. McElroy, A.K., et al. (2014, August) "Ebola hemorrhagic fever: Novel biomarker correlates of clinical outcome," Journal of Infectious Diseases, 210 (pp. 558–66), doi: 10.1093/infdis/jiu088.
2. Rollin, P.E., et al. (2007) "Blood chemistry measurements and D-dimer levels associated with fatal and nonfatal outcomes in humans infected with Sudan Ebola virus," Journal of Infectious Diseases, 196 (pp. 364–71).
Post Author: Rebecca Easley.