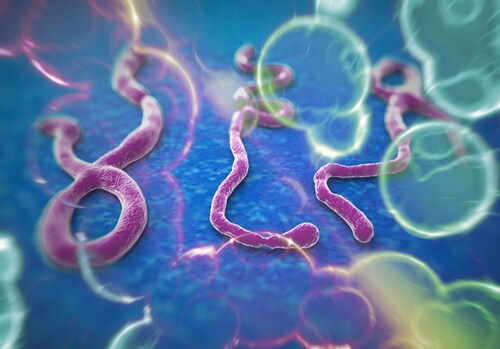 Ebola hemorrhagic fever, caused by Ebola virus (EBOV) infection, is an acute systemic illness marked by bleeding diathesis, fulminant shock and, often, death. Indeed, the mortality rate associated with this virus can approach 90%. As researchers pursue strategies for prevention and treatment in the wake of the current outbreak, existing research may shed light on the underlying mechanisms of this virus and the immune response it triggers.
Just as the present crisis came to light in March 2014, Garamszegi et al. submitted their transcriptomic analysis of EBOV-challenged non-human primates (NHPs).1 In their investigation, the team specifically sought gene signatures that correlate with survival in anticoagulant-treated victims. They report the discovery that small gene sets and transcriptional regulatory networks can differentiate between outcomes and even predict survival.
For this work, the team used datasets from previously published studies evaluating the efficacy of two anticoagulant therapeutics: recombinant human activated protein C (rhAPC)2 and recombinant nematode anticoagulant protein c2 (rNAPc2).3 The collective dataset included peripheral blood mononuclear cells from 23 rhesus macaques: 19 treated with anticoagulant therapeutics (11 rhAPC, 8 rNAPc2) and 4 untreated controls. Of these, 4 of the treated NHPs (2 rhAPC, 2 rNAPc2) survived lethal challenge with EBOV (H.sapiens-tc/COD/1995/Kikwit-9510621).
The team analyzed mRNA expression changes between treated survivors and treated/untreated non-survivors. They identified 20 unique probes (16 annotated genes, 3 genetic loci, 1 microRNA) that distinguished between the NHPs surviving the EBOV challenge and those who succumbed. They report two significant patterns of differential expression for survivors: upregulated expression of 6 genes (CLDN3, ILF2, ILF3, NDUFA12, RUVBL2, SLC38A5), and downregulated expression of 10 genes (ACCN1, CEBPE, CRHR2, FAM63A, HMP19, IL2RA, LTF, PSMA1, RCHY1, SLC9A7), the genetic loci (AC009283, LOC100289371, LOC440871) and microRNA (miR-122). To verify their findings, the team employed hierarchical clustering and leave-one-out cross-validation. The minimal gene set correctly classified samples with 100% accuracy.
While the size of the gene set inhibited true pathway analysis, the team highlighted notable traits. Over half of the identified probes (e.g., CLDN3, CRHR2, ILF2, ILF3, LTF, miR-122, RCHY1, RUVBL2) have been previously linked to viral infection, replication or viral proteins, although only one (ILF3) has been specifically associated with EBOV infection. One of these probes, miR-122, is a known positive regulator of viral replication for hepatitis C. Many of the genes (e.g., ACCN1, CLDN3, HMP19, NDUFA12, SLC9A7, SLC38A5) participate in transport or encode membrane proteins. A few of the genes (e.g., CRHR2, IL2RA, LTF, PSMA1) play a role in immune and/or inflammatory response.
Garamszegi et al. also identified a larger predictive signature of 245 unique probes (238 annotated genes) that distinguished among treated survivors, treated non-survivors and untreated non-survivors. Of the 20 highly predictive probes from the minimal gene set, 17 (85%) were also present in the larger signature. Overall, the team observed that survivors exhibited "significant and opposing regulation of expression" when compared to non-survivors, without regard to whether the non-survivors received anticoagulant. Two expression patterns emerged as particularly interesting. One grouping of genes (cluster two) was largely related to cell metabolism and was downregulated in non-survivors. A second grouping (cluster three) contained genes associated with immune/inflammatory response and was upregulated in non-survivors. The latter finding is consistent with the hypothesis that non-survivors experience acute dysregulation of the immune response.
The team probed the larger gene set, searching for common transcriptional regulators with downstream targets whose expression correlated with survival in NHPs. They found 4: CCAAT/enhancer-binding protein alpha (CEBPA), tumor protein 53 (p53), megakaryoblastic leukemia 1 (MKL1) and myocardin-like protein 2 (MKL2). The researchers suggest that future investigation of these pathways could reveal transcriptional signatures specific to EBOV infection and host immune response.
Overall, Garamszegi et al. present a minimal gene set that distinguishes between survivor and non-survivor NHPs under specific conditions (anticoagulant treatment). They posit that these 20 genes could eventually serve as prognostic biomarkers. They also offer transcriptional regulators and pathways for further investigation in the ongoing search for prevention and treatment options for EBOV infection.
References
1. Garamszegi, S., et al. (2014, July) "Transcriptional Correlates of Disease Outcome in Anticoagulant-Treated Non-Human Primates Infected with Ebolavirus," PLOS Neglected Tropical Diseases, 8(7) (p. e3061), doi: 10.1371/journal.pntd.0003061.
2. Geisbert, T.W., et al. (2003) "Treatment of Ebola virus infection with a recombinant inhibitor of factor VIIa/tissue factor: A study in rhesus monkeys," Lancet, 362 (pp. 1953–8).
3. Hensley, L.E., et al. (2007) "Recombinant human activated protein C for the postexposure treatment of Ebola hemorrhagic fever," Journal of Infectious Diseases, 196, Supplement 2 (pp. S390–9).

Post Author: Melissa J. Mayer. Melissa is a freelance writer who specializes in science journalism. She possesses passion for and experience in the fields of proteomics, cellular/molecular biology, microbiology, biochemistry, and immunology. Melissa is also bilingual (Spanish) and holds a teaching certificate with a biology endorsement.