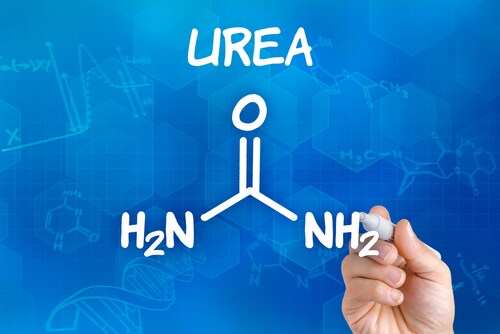 Carbamylation is a post-translational modification (PTM) that occurs in the presence of urea. During the reaction, cyanate ions react with either amino groups at the N-terminus of a protein or on lysine or arginine side chains, or with the sulfhydryl groups of cysteine side chains.
Claxton et al. (2013) proposed that carbamylation PTMs occur spontaneously in vivo in the renal inner medulla, an area naturally exposed to high urea concentrations.1 The scientists also speculated that fluctuating urea concentrations with change in physiological status might affect rates of carbamylation. They investigated their theories using carbamyl-lysine immunoblotting and a proteomics mass spectrometry (MS) approach to identify rates of carbamylation in the renal proteome.
Claxton et al. modified water balance in Sprague Dawley rats using short-term water deprivation and administration of DDAVP, a synthetic vasopressin analog. They also investigated longer-term (five days) water deprivation and water loading in other experimental groups. Following experimental preparation, rats were decapitated and their kidneys rapidly harvested. The researchers then carefully dissected renal cortex plus outer and inner medulla tissue, homogenizing the samples prior to analysis.
The researchers extracted proteins from the tissue samples before separating them by sodium dodecyl sulfate-polyacrylamide gel electrophoresis (SDS-PAGE). Using a carbamyl-lysine antibody, Claxton et al. investigated the presence of carbamylation by immunoblotting. They found that although carbamylation was increased in proteins from the renal inner medulla, the PTM also affected proteins from the cortex and outer medulla.
Concerned that carbamylation was occurring during tissue preparation, the researchers adapted their workflow to remove endogenous urea prior to MS analysis. In these rats, intra-peritoneal furosemide, a diuretic, was administered 30 minutes prior to decapitation to reduce urea concentrations by diuresis. Following tissue harvest, the researchers dialyzed the preparations against urease to remove urea before separating the proteins by gel electrophoresis. In-gel trypsin digestion completed the sample preparation prior to liquid chromatography–tandem MS analysis using an LTQ Orbitrap Velos hybrid ion trap-Orbitrap mass spectrometer (Thermo Scientific). Using the InsPecT algorithm, Claxton and colleagues compared the MS data with the NCBI RefSeq rat protein sequence database.
The researchers found 456 unique carbamylation sites present on 403 proteins identified from the MS data, with the PTM occurring mainly on the available N-terminus sites (one-third of the sites identified). Comparing water deprivation with water loading, the researchers found that this physiological maneuver did not affect rates of carbamylation, despite profound changes in urea concentration. By creating a pseudo-immunoblot from the quantitative proteomics results, the researchers compared and confirmed this finding with the traditional immunoblot results.
Through functional analysis of the proteins identified from the MS data, Claxton and co-workers found that the majority were indeed involved in roles affecting the inner renal medulla; this list included, for example, aldose reductase, an enzyme that regulates osmotic pressure in the inner medulla. They did not speculate on the consequence of carbamylation on activity, noting only that it does not seem to fluctuate with water balance despite changes in urea concentration.
The researchers found that approximately 7% of all proteins identified were carbamylated and that the PTM was found in each cellular compartment. They noted that a subset of the carbamylation sites recognized was also known to undergo ubiquitination and discussed the functional significance of these findings.
Summarizing their findings, Claxton et al. suggest that since rates of the PTM are unaffected by water balance, normal levels of urea are sufficient to cause widespread endogenous carbamylation throughout the kidney and not just the inner renal medulla, as initially proposed.
Reference
1. Claxton, J.S., et al. (2013, December) "Endogenous Carbamylation of Renal Medullary Proteins," PLOS ONE, 8(12) (p. e82655), doi: 10.1371/journal.pone.0082655.
Post Author: Amanda Maxwell. Mixed media artist; blogger and social media communicator; clinical scientist and writer.
A digital space explorer, engaging readers by translating complex theories and subjects creatively into everyday language.