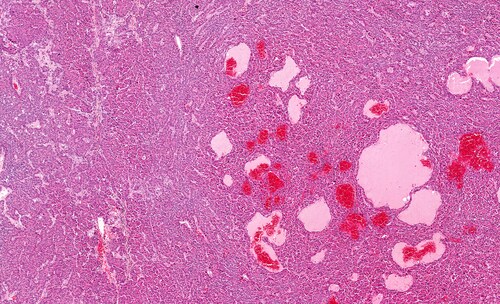 Investigating routes of malignancy in the development of cancer includes looking at epigenetic modifications, such as histone methylation, that can affect gene expression. Chen et al. (2013) used mass spectrometry-based analysis to characterize histone protein methylation in hepatocellular carcinoma (HCC) cell lines, comparing data to look for differences in malignant potential.1
Histones are nuclear proteins closely associated with DNA structure and function that can influence gene expression and transcription. By altering the conformation of DNA within the nucleus, histones regulate gene exposure to transcriptional machinery. Post-translational modification (PTM) of the proteins themselves affects histone-histone association, with one of the results being gene silencing. The effects of a PTM such as methylation vary depending on the site and type of modification, as well as its proximity to gene promoters and other regulatory elements. In cancer cells, this might involve turning off tumor-suppressor genes that could prevent oncogenesis.
Chen et al. characterized histone proteins collected from two different HCC cell lines, HepG2 and MHCC97-H, a highly malignant phenotype, focusing on histone H3 modifications. They lysed the cells, then isolated the histone proteins with acid extraction. The researchers purified the proteins by high-performance liquid chromatography (HPLC) followed by matrix-assisted laser desorption/ionization (MALDI) validation to confirm histone proteins (H1, H2A, H2B, H3 and H4) in the elution fractions. Once validation was complete, Chen et al. prepared the H3 proteins for assessment by mass spectrometry. They performed a derivatization step in acid using N-hydroxysuccinimide (NHS)-propionate before digesting the proteins using trypsin.
Once digested, the researchers analyzed the peptides by liquid chromatography–tandem mass spectrometry (LC-MS/MS) on a Q Exactive mass spectrometer (Thermo Scientific). They searched the high energy collision dissociation spectral data using Proteome Discover software revision 1.3, then calculated the relative quantification with Xcalibur Qual Browser software (both Thermo Scientific), focusing on evidence of PTM and methylation.
Using LVR and EIR as housekeeping peptides, the researchers normalized the data by three different methods, basing calculations on:
Sum of peak areas corresponding to all modified forms of the same peptide
Average peak areas of housekeeping peptides
Sum of peak areas of all observed modified forms of peptide
The researchers found that all normalization methods showed similar quantification, with ratios consistent between HepG2 and MHCC97-H cells by all estimations during three experimental runs. The team identified 17 types of H3 methylation in the samples collected from the cell lines. They then examined for differences in abundance between the two HCC cell lines. They found reduced levels of K9me1K14ac and K9me0K14ac and raised H3K9me3 and H3K27me2 in the highly malignant MHCC97-H cells.
Chen et al. note that more studies could further characterize H3 methylation involved in PTM and HCC phenotype. Although the data do not show the effect of these changes in histone H3 methylation on gene activation and repression, the team is confident that characterizing histone protein isoforms is valuable for both therapeutic and biomarker discovery in HCC. Furthermore, the researchers suggest that the new derivatization workflow is a useful tool for characterizing histone proteins.
Reference
1. Chen, J., et al. (2013) "Quantitative profiling of histone H3 methylation in human hepatocellular carcinoma," Journal of Proteomics and Bioinformatics, S2: 003. doi: 10.4172/jpb.S2-003.