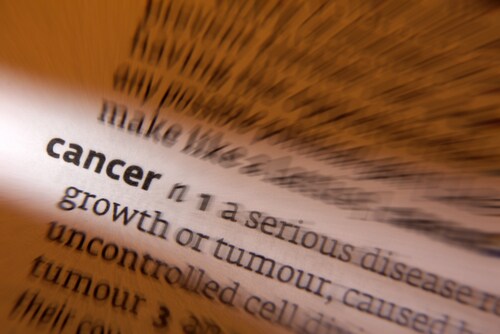 Epithelioid sarcoma is a rare and slow-growing tumor affecting mainly young people. It has a high rate of recurrence and frequently metastasizes to the lymph nodes. Although one key molecular factor—deletion of tumor suppressor gene INI1—has already been shown to be important in the development of this cancer, not much is known about the cellular events driving oncogenesis.
Mukaihara et al. (2014) chose a proteomics approach to determine the molecular alterations driving these cells into tumor formation.1 By examining the tumor proteome in comparison with normal surrounding tissue, they hoped to pinpoint differences in protein expression that could reveal altered gene expression and transcription.
Using tumor and nearby unaffected non-tumor tissue from eight individuals, the researchers homogenized the frozen samples before separating the proteins using 2D difference gel electrophoresis (2D DIGE). They analyzed the resulting arrays and found 3,363 protein spots, of which 91 showed differential expression between tumor and non-tumor extracts. The team's results indicated that the differentially expressed proteins came from 69 unique gene products.
Mukaihara and colleagues excised the protein spots showing differential expression and digested them in-gel with trypsin. They analyzed the tryptic peptides via liquid chromatography–tandem mass spectrometry (LC-MS/MS) using LTQ Orbitrap hybrid ion trap-Orbitrap and LTQ linear ion trap mass spectrometers (Thermo Scientific). Once obtained, the team compared the data against the Swiss-Prot Homo sapiens database for matches.
The results showed that (among other proteins) levels of CAPZB, a member of the F-actin capping protein family that has been found elevated in salivary gland cancer, were also raised in tumor tissues as compared with adjacent control tissues. The researchers confirmed the CAPZB MS findings with Western immunoblotting, showing that levels of this protein were indeed elevated in tumor homogenates. However, when they tried to replicate their results using immunohistochemistry on formalin-fixed, paraffin-embedded tumor sections, they were unable to consistently visualize raised CAPZB protein levels, nor were they able to consistently visualize CAPZB cellular localization among the tissue sections.
Commenting on the discrepancy between protein quantitation assays and the tissue immunohistochemistry, the scientists noted that they gathered their proteomics data from tissue homogenates rather than discrete cells. It was not possible, therefore, to discriminate tissue components during the proteomics analysis, and thus the results were a reflection of many different cell types. In exploring the proteome of epithelioid sarcoma tumors, however, Mukaihara et al. consider that their approach raised some interesting findings that deserve further investigation.
Reference
1. Mukaihara, K., et al. (2014, June) "Proteomic Profile of Epithelioid Sarcoma," Journal of Proteomics and Bioinformatics, 7 (pp. 158–65), doi: 10.4172/jpb.1000316.
Post Author: Amanda Maxwell. Mixed media artist; blogger and social media communicator; clinical scientist and writer.
A digital space explorer, engaging readers by translating complex theories and subjects creatively into everyday language.