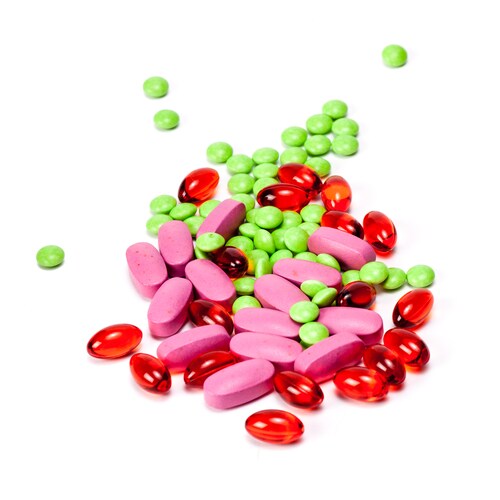 Phosphodiesterase type 5 (PDE-5) inhibitors are the preferred treatment options for erectile dysfunction (ED). Unfortunately, the clinical efficacy of these compounds has rendered them subject to adulteration and counterfeiting. Recently, Lebel et al. worked with Health Canada to assess liquid chromatography (LC) coupled with tandem mass spectrometry (MS/MS) for the simultaneous identification of 71 active and 11 natural ingredients for the treatment of ED and related disorders.1
To accomplish this, the research team acquired 82 analyte standards for the preparation of stock solutions. They also obtained real-world samples, including Viagra (3 legal, 6 counterfeit), Cialis (3 legal, 4 counterfeit), Levitra (3 legal, 3 counterfeit), 9 non-registered, seized tablets, and 8 herbal preparations. Based on standards testing, Lebel et al. selected the Accucore aQ C18 column (100 2.1 mm, 2.6-µm particles, Thermo Scientific) for its superior selectivity and used it with a gradient of 0.1% formic acid in water and acetonitrile for separation. For data acquisition, they used an Acela high-performance LC instrument coupled to an LTQ Orbitrap XL hybrid ion trap-Orbitrap mass spectrometer (Thermo Scientific) in both full-scan and data-dependent MS/MS modes. They scanned 12 to 15 points per peak at 30,000 resolution, which was ideal for narrow chromatographic peak-widths. For system control and data processing, they relied upon LTQ Tune Plus software revision 2.5.5 and Xcalibur software revision 2.1 (Thermo Scientific).
The team evaluated the method using accepted performance indicators. The whole-study mass accuracy was below 3 ppm and, using retention times, accurate mass values and fragmentation values, the researchers positively detected all 82 analytes from a mixture. They observed no significant degradation over time and only 2–3% peak variation from stored samples. In terms of matrix effect and carryover, neither presented an issue, although the team recommends blank injections when analyzing the compound icaritin. For a concentration range of 0.1–1,000 ng/mL, they found good linearity and calibration curve correlation coefficients of 0.9969–0.9991. The detection limit and limit of quantification were 0.10–7.50 ng/mL and 0.33–24.75 ng/mL, respectively. Recoveries were 92–111%. When evaluating for precision and accuracy, the scientists found 3.2% intra-assay precision and 10.4% inter-assay precision across various concentrations (50, 250 and 1,000 ng/mL). For instrument repeatability, they noted no variation in retention time (intra-assay, 0.04% RSD; inter-assay, 0.40% RSD) and only minor alterations in peak area (1.0% RSD).
Lebel et al. successfully separated and detected the samples within only 10 minutes. These samples had been previously analyzed by high-performance LC with ultraviolet detection and gas chromatography MS, both validated for routine drug monitoring by Health Canada. The Orbitrap-based LC-MS/MS method described herein compared favorably to both of these, with enhanced speed (5-fold and 2.5-fold, respectively) and sensitivity and no observed false positives or false negatives. Additionally, the full-scan method presented here allows for the retroactive, untargeted analysis of samples as new compound identifications emerge. Given the unduplicated success of this method, Health Canada has instituted its use in the counterfeit identification program, believing that the rapid, simultaneous analysis of drugs and adulterants will enhance public health and consumer safety.
Reference
1. Lebel, P., et al. (2014, May) "A rapid, quantitative liquid chromatography-mass spectrometry screening method for 71 active and 11 natural erectile dysfunction ingredients present in potentially adulterated or counterfeit products," Journal of Chromatography A, 1343 (pp. 143–51), doi: 10.1016/j.chroma.2014.03.078.

Post Author: Melissa J. Mayer. Melissa is a freelance writer who specializes in science journalism. She possesses passion for and experience in the fields of proteomics, cellular/molecular biology, microbiology, biochemistry, and immunology. Melissa is also bilingual (Spanish) and holds a teaching certificate with a biology endorsement.